Swimmer Sharron Davies Under Fire For Poultry Firm Promotion
UK - Food campaigners and an animals rights group today raised eyebrows at swimmer Sharron Davies' decision to promote poultry firm Bernard Matthews.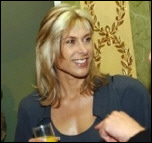 The Food Commission said it doubted whether processed meat products featured highly in the diets of athletes.

And the head of an animal sanctuary which has criticised Bernard Matthews' welfare standards said Davies was risking tarnishing her reputation.

But Davies said she was "proud" to support the company and Bernard Matthews said there was "nothing unhealthy" in the food the swimmer was promoting.

Davies, 44, who won silver at the 1980 Moscow Olympics and commentates for the BBC, is spearheading Bernard Matthews' drive to boost sales in wake of a bird flu outbreak.

Turkey sales slumped after the H5N1 bird flu virus was found at a Bernard Matthews' plant in Holton, Suffolk in February.

"This is what sports stars do and Sharron Davies has every right to advertise Bernard Matthews but it would be nice to see her advertise something that is unquestionably healthy," said a Food Commission spokesman.
Source: 24Dash