Authorities Raid Southwest Ohio Poultry Plant
US - Some 160 people were arrested in an immigration enforcement raid Tuesday at a poultry processing plant in southwest Ohio following a two-year investigation, authorities said.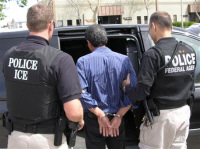 U.S. Immigration and Customs Enforcement agents seized documents and other materials at the Koch Foods plant and at Koch Foods Inc.'s Chicago area headquarters, said Brian Moskowitz, a special agent in charge of ICE enforcement for Ohio and Michigan.

Monte Lobb, a Fairfield plant official, said he has fired many employees after finding out they were illegal immigrants and has repeatedly told federal authorities he wants to cooperate with them.

"The government won't work with me," he said. "I'm against illegals. I'm not going to do anything to break the law, but people get false papers."

Telephone calls and an e-mail for comment to Koch's headquarters weren't answered. The company has facilities around the Midwest and Southeast, according to its Web site, which proclaims it "America's chicken specialist."

Source: HeraldTribune