Aviagen Congratulates Mach Hatcheries
CZECH REPUBLIC - Aviagen representatives were delighted to take part in the 15th anniversary celebrations of Mach Hatcheries in the Czech Republic this month. The company has been a Ross Parent Stock customer during this time.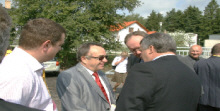 To celebrate, Mr Jir Mach, owner of Mach Hatcheries, held a day-long event at Litomysl Castle, a UNESCO World Heritage site. The day consisted of a presentation on the company, charting the massive success over the last fifteen years, before a lunch in the castle grounds and a chance to view a selection of paintings by the famous Czech artist, Frantisek Kupka.

An evening meal at Smetana's House, home of the composer, was followed by music from a local band and a speech from Czech broadcaster Jan Kovarik. Eleven Aviagen staff attended, including Randall Ennis, Chief Operating Officer to pass on the congratulations of the entire company.

Randall commented: "We are very proud to have worked with Mach Hatcheries over the past 15 years. We are very pleased that the Ross product has been part of this success for the company. The close relationship we have had over the years has proven very successful for both parties and we look forward to continuing this collaboration long into the future."