Chubby Chick Doubles Production Capacity
SOUTH AFRICA - Well known South African poultry producer Chubby Chick has signed a major deal with poultry equipment supplier Spartan Equipment in order to double their production capacity from 500.000 birds per week to one million by 2011.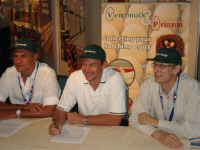 The overall project includes an expansion of the hatchery as well as an increase in the number of breeder layer houses, rearing houses and broiler houses. The contract covers the delivery of Vencomatic automatic nest boxes, Choretime feeders and ventilation, ValCo nipple drinkers and Petersime equipment for the hatchery.

Phillip Bronkhorst of Spartan Equipment, Deon Fourie of Chubby Chick and Peter-Bart Lichtenbeld of Vencomatic at the signing of the contract at the Avi Africa show.

Vencomatic area sales manager Peter-Bart Lichtenbeld about the contract with Chubby Chick: "We are very pleased with all the trust Chubby Chick has given us and the decision to work with our equipment. Together with Spartan Equipment, our partner in the South African market, we will do our best to make this project a success."

With their new build breeder layer houses, Chubby Chick is a pioneer in hatching egg production. The closed and environment controlled houses in total 25.000 breeders are state of the art. They have been specially designed for automatic hatching egg collection and the highest bio security will be implemented. Vencomatic will support Chubby Chick not only by delivering the mechanical nest boxes through Spartan Equipment but part of the contract is also to provide management training on working with the mechanical egg gathering in all facets. A Vencomatic poultry specialist will train the work force and management of the farms to get the best results and highest quality of hatching eggs out of their breeder houses.