Cobb Appoints New US Sales Manager
US - Heath Wessels has been appointed US sales manager for Cobb-Vantress, filling the position recently vacated by Dr Aldo Rossi, now general manager for North America.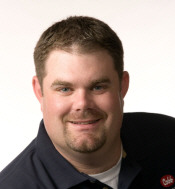 Heath Wessels
Mr Wessels began his career at Cobb in 1997 after graduation from John Brown University in Siloam Springs, Arkansas with a BSc in business administration with an emphasis on marketing. After performing various marketing activities he became in 2000 territory sales manager for the southwest United States, including Missouri, Arkansas, Texas, Louisiana, and the west coast.

He was twice gained 'Salesman of the Year' awards — from the Arkansas Poultry Federation, and from the Texas Allied Poultry Association.

He has served on the boards of directors of the Arkansas Allied Poultry Association, the Texas Allied Poultry Association, the California Poultry Federation, the Louisiana Poultry Federation (twice as president in 2004 and 2007), and the Louisiana Poultry Industries Educational Foundation (president in 2006 and 2007).

"Heath's commitment and broad knowledge of the company will be instrumental in leading the sales group as we continue to grow our business in the US and globally," says Dr Rossi.