Eat-Chicken Message Via Imphal Feast
IMPHAL - It's official. Eating chicken is safe in Manipur, even in the 5-km radius of the farm affected by bird flu.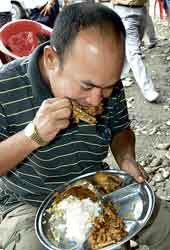 A Manipur veterinary department official at the feast. Picture by Eastern Projections
After asking people in Manipur to avoid eating chicken for the past fortnight so as to avoid contracting the disease, officials of the state veterinary department today tucked into chicken curry without any restraint.

"Led by veterinary secretary K.K. Chettry, officials of the state veterinary department had chicken at a feast organised at a makeshift camp at the department today," an official said.

The chicken feast, organised with the approval of state veterinary director Th. Dorendra Singh, is an attempt by the department to send out the message that people can now safely consume chicken.

But the veterinary department set one condition that dressed chicken should be brought in from places outside the 5-km radius. No live chicken should be brought in or sold within the 5-km radius until the government officially declares Manipur free of flu.

This announcement will take at least three more months, according to the WHO's guidelines. The poultry farmers can resume their business only after three months, the official said.

The state government ordered a ban on the sale, consumption and movement of poultry within a 10-km radius of a poultry farm in Chingmeirong in Imphal East district following the outbreak of the H5N1 strain of the avian influenza there on July 25.
Source: TheTelegraph