Jamaica Broilers Minimally Affected By Hurricane Dean
JAMAICA - Jamaica Broilers Groupsustained "no significant loss", and all areas of operation are up and running, according to Chief Financial Officer Ian Parsad.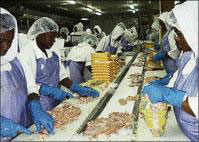 Workers on the production line at the Jamaica Broilers Processing Plant, Spring Village, St. Catherine, are seen in this January 18 'Gleaner' photo. The company says it expects a five per cent erosion of expected quarterly profits as a result of Hurrican Dean.
Loss of grain

Parsard notes, however, that the surviving birds might have suffered some trauma, which may have a mild additional affect on output.

The company also had some loss of corn and grain due to damage to a warehouse, but will have "more than enough" grain to continue normal operations.

Parsard said that Broilers will not see much reduction in sales.

The group is fully insured against loss of property, but there was "no property damage" to trigger its business interruption insurance, said Parsard.
Source: Jamaica Gleaner