Aviagen Welcome Iranian Ross Distributor To UK Headquarters
UK - Members of the Ross Middle East Team and Aviagen's Senior Management Team were delighted to welcome high-level representatives of Kowsar Agricultural Holdings of Iran to Scotland at the beginning of August.
The visit provided an opportunity to update the visitors on the global strength of the Ross products, investments in R & D and latest developments in nutrition and other key areas of the poultry industry.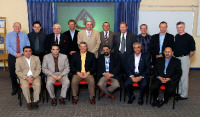 Kowsar Agriculture Holdings, Iran's premier agricultural organisation, have worked with Ross since the early nineties and are one of Aviagen's key distributors. Through their subsidiary, Zarbal Grand Parent Company, they supply Ross product to the majority of the Iranian market.

Dr Mehrabani, Managing Director, Kowsar Agricultural Holdings, commented: "We have really enjoyed our visit to the UK. It has been a great opportunity to meet with many of the senior Aviagen staff and we have been impressed by the depth of knowledge and experience available in the company and enjoyed the opportunity to be updated on activities in nutrition, research and development and veterinary departments."

Randall Ennis, Aviagen's Chief Operating Officer, added: "This was an excellent opportunity for both parties to reinforce and consolidate our long-standing commitment and also allowed us to further discuss joint initiatives to further strengthen our partnership."