Higher Pay, More Staff Are Keys For Safety
HA NOI - Veterinarians agree that improved grassroots capacity and higher pay are the key to the prevention of disease in Viet Nam's livestock and poultry.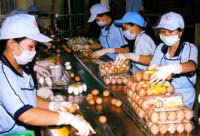 Workers of Vinh Thanh Dat enterprise in HCM City pack pasteurised eggs.
Veterinary clinics were too often understaffed and the pay too little to induce high productivity, they argued at a meeting in Ha Noi yesterday.

The gathering, organised by the Agriculture and Rural Development Ministry's Department of Animal Health, was held to discuss ways to prevent the spread of avian flu and other epidemics, especially with the approach of winter with its higher risk to animals.

The veterinarians heard reports dealing with diseases that have struck herds and poultry flocks this year, including avian flu, foot and mouth disease, and Porcine Reproductive and Respiratory Syndrome or "blue ear" disease.

Two bird-flu outbreaks struck this year.

The first affected 83 communes in 33 districts of 11 cities and provinces at the beginning of the year.

It either killed or forced the slaughter of 104,094 birds.

The second outbreak had struck at 167 communes in 70 districts of 23 cities and provinces since May.

More than 294,800 birds had either died or been culled.
Source: VNS