Security Regulations Ruffling Feathers In Poultry Industry
US - In 28 years of raising chickens, Virgil Shockley has had his share of worries, from bird disease to pollution. But nothing prepared him for the latest concern sweeping the poultry industry: Local farms could be deemed terrorist targets by the U.S. government.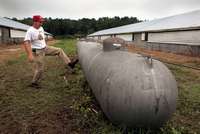 Going nowhere: Chicken farmer Virgil Shockley demonstrates how hard it would be to move one of the 500-gallon propane tanks on his Maryland farm.
"Out here?" Shockley exclaimed, gesturing across a rutted dirt road from his home on Maryland's Eastern Shore, toward six long metal sheds filled with birds.

But nestled in the grass between his sheds are rows of large propane tanks, used to heat the chicken houses. They fall under regulations recently proposed by the Department of Homeland Security for the chemical industry. Like many others in the $1.6 billion Delmarva poultry industry, Shockley can't imagine that a propane tank could pose a threat in that rural area.

"Hell, if it blows, you've got barbecued chicken!" he said. Shockley is part of an unlikely group of people who have been swept up in Homeland Security's quest to protect the chemical industry from terrorist attacks.

The proposed regulations, drafted after years of debate, would require thousands of chemical-using businesses to fill out extensive questionnaires in coming months. Homeland Security would then require the highest-risk companies to draw up detailed security plans.
Source: IndyStar.com
Further Reading