US Animal Disease Control 'Biggest Need'
BOWLING GREEN - More than 85 percent of those completing an informal survey at ID•INFO EXPO 2007 believe the United States is not keeping pace with other developed countries regarding animal traceability systems for marketing and disease control purposes.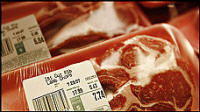 85% say US lagging behind
ID•INFO EXPO 2007, held August 28-30, in Kansas City, is an event hosted by the National Institute for Animal Agriculture (NIAA). More than 400 people from allied industries, government, academia, and producers attended the event, which included a trade show with 23 exhibitors.

Animal disease control topped the list when respondents ranked "the biggest needs for implementing animal traceability systems." The second biggest need for implementing animal traceability systems, according to this audience, was export of livestock products. Value-added livestock marketing was next while food safety and country of origin labeling ranked fourth and fifth, respectively. Under the "other" needs category appeared "mandatory," "decreased costs of production," "a secure data collection system" and "expansion of the Locate in 48 program."

When posed the question "What level of participation do you feel is necessary for the premises registration under NAIS to become an effective tool in supporting animal disease traceability?" nine (9) out of ten (10) respondents agreed that "80 to 100 percent" participation would be necessary. Of the remaining respondents, just 6.67 percent thought "60 to 80 percent" would be required while 3.33 percent answered "40 to 60 percent" participation. Not one person marked the "less than 40 percent" participation box.

"Incorporate and require ID standards throughout all existing disease programs" and the "other" category received the highest rankings when individuals were asked "What steps do you feel can be taken today that will give the biggest boost toward enhancing participation in a national animal disease traceability system?"

About half of respondents who checked the "other" category saw "mandatory" as the answer to enhancing participation. "Other" write-ins that moved this category to be ranked as the biggest boost included "public education," "create a business plan and stick to it," "guarantee privacy and limit liability to producers for infractions" and "make it an industry-run program."

More details on the survey and ID•INFO EXPO 2007 can be found in the NIAA's Newsletter, animalagriculturequarterly, which is available at www.animalagriculture.org. While at that website, visitors might also wish to click on the "Proceedings" button for all presentations from the event.

The National Institute for Animal Agriculture provides a forum for building consensus and advancing solutions for animal agriculture and provides continuing education and communication linkages for animal agriculture professionals. NIAA is dedicated to programs that: work towards the eradication of disease that pose risk to the health of animals, wildlife and humans; promote a safe and wholesome from supply for our nation and abroad; and promote best practices in environmental stewardship, animal health and well-being. NIAA members represent all facets of animal agriculture.