Ethanol's Ripple Effect
SOUTH GLASTONBRY - George Purtill is a cheerful, knowledgeable farmer who has done nearly everything he could over the past decade to preserve his Old Maids Farm in South Glastonbury.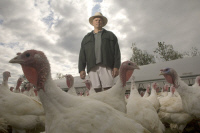 THE ETHANOL BOOM has sent corn prices skyrocketing. At Ekonk Hill Turkey Farm in Sterling, Rick Hermonot, who raises 1,250 cage-free turkeys, has seen his cost for a soy-corn feed mixture increase by a third while retail turkey prices have increased only 11 percent. "You don't have to be real smart at math," he says.
Purtill sells shares of his crop every year to 100 area residents, grows certified organic vegetables for retailers such as the Whole Foods chain and, for the Thanksgiving trade, nurtures a prized flock of heritage turkeys range-fed on a special diet of fresh vegetables and chemical-free grains.

But those organic turkeys are costing Purtill - big time - this year.

Because of the ethanol boom in the Midwest, which will divert as much as 15 percent of America's corn crop to energy production this year, grain prices have skyrocketed to record levels. And that spike in feed-grain prices has reached all the way across the country to Purtill's 86 tilled acres along the Connecticut River.

"America is in the middle of a transition from traditional to organic farming, and the ethanol boom has walked right into that and interrupted progress," Purtill said last week, leaning against the fence of his outdoor turkey range.

"The price I paid last year to feed these birds with specialized organic corn was $200 a ton," he said. "This year I'm paying $400 a ton, a 100 percent increase. My cost of production has just about doubled, and this year the price of my turkeys will have to go up at least $1 per pound."

Ironically, the huge increase in the corn crop this year - American farmers planted 90.5 million acres in 2007, compared with 78.6 million acres in 2006 - only begat more corn on Purtill's acres. Last winter, when he saw corn futures prices climbing in anticipation of the ethanol boom, Purtill realized that the specialty organic corn he feeds to his turkeys probably would be sold instead to ethanol distilling plants. So, he decided to plant 13 acres, usually devoted to highly profitable vegetables, with his own certified organic corn.
Source: Courant