Second-Largest U.S. Meat Recall Sinks Topps
NEWARK - Topps Meat Co. on Friday said it was closing its business, six days after it was forced to issue the second-largest beef recall in U.S. history and 67 years after it first opened its doors.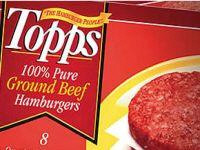 The decision will cost 87 people their jobs, Topps said. On Sept. 25 Topps began recalling frozen hamburger patties that may have been

contaminated with the E. coli bacteria strain O157:H7. The recall eventually ballooned to 21.7 million pounds (9.84 million kilograms) of ground beef.

Thirty people in eight states had E. coli infections matching the strain found in the Topps patties, the Centers for Disease Control and Prevention reported. None have died.

"This is tragic for all concerned," said Topps chief operating officer Anthony D'Urso, a member of the family that founded the company in 1940.

The Topps recall raised questions about whether the U.S. Agriculture Department should have acted quicker to encourage a recall. On Thursday, top USDA officials said they would speed warnings in the future.

Topps conceded that much of the recalled meat had already been eaten, and on Friday expressed regret that its product had been linked to illnesses. 'We hope and pray for the full recovery of those individuals,' D'Urso said in a statement.

The Elizabeth, New Jersey-based company had initially recalled 331,582 pounds (150,405 kilograms) of its frozen hamburgers on Sept. 25, acting only after the New York State Department of Health issued an alert linking Topps patties to illnesses.

Topps on Sept. 29 recalled 21.7 million pounds (9.84 million kilograms) of its frozen hamburgers _ a year's worth of production _ after further evidence from the New York State Department of Health indicated a wider problem.

D'Urso said a few employees will remain at the site to help USDA scientists investigate the source of the E. coli outbreak.

The bacteria, which can be fatal to humans, is harbored in the intestines of cattle and can also get on their hides. Improper butchering and processing can cause the E. coli to get onto meat.

Thorough cooking, to at least 160 degrees Fahrenheit (71 degrees Celsius) internal temperature, can destroy the bacteria. Topps gets beef parts from slaughterhouses, grinds them, forms the meat into patties and freezes them.

Privately held Topps, which claimed to be the leading U.S. maker of frozen hamburger patties, said it sold its products to supermarkets and institutions such as schools, hospitals, restaurants and hotels.

The recall represents all Topps hamburger products with either a 'sell by date' or a 'best if used by date' between Sept. 25, 2007 and Sept. 25, 2008.
Further Reading