Ban On Indian Poultry Lifted, Says Embassy
OMAN - The Sultanate has lifted the ban on import of Indian poultry and poultry products, the Indian mission stated here yesterday.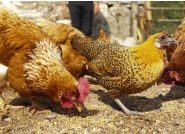 The ban on Indian poultry and poultry products was lifted following the intimation received by the Ministry of Agriculture from the World Organisation for Animal Health (OIE) that India had declared itself free of Avian Influenza (AI) (H5N1).

This was revealed during a meeting by Anil Wadhwa, Indian ambassador, had with Sheikh Salim bin Hilal bin Ali Al Khalili, minister of agriculture, yesterday.

The Government of India had taken stringent measures to stamp out the last outbreak of Avian Influenza (AI) (H5N1) which occurred in the month of July in a small poultry unit in Chingmeirong village, near Imphal, in the north-eastern state of Manipur.

All necessary steps were urgently taken and the outbreak has been effectively stamped out.
Source: TimesOfOman