Big Dutchman's Efficient, Effective Dry-Type Dust Filter
SOUTH KOREA - StuffNix now also installed in South Korea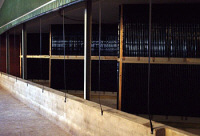 The more densely an area is populated, the more urgent is the question of what to do with dust emissions from their poultry houses that many poultry producers worldwide are faced with. The reason for this might be strict regulations issued by local authorities, but also the increasing public awareness for environmental problems. However, these difficulties can easily be overcome with the efficient Big Dutchman dust filter StuffNix – without producing unnecessary additional costs. This can be seen on the example of a layer farm in South Korea, one of the most densely populated countries in the world.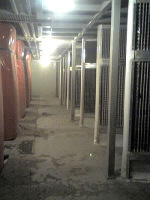 Right: front side of StuffNix, left manure removal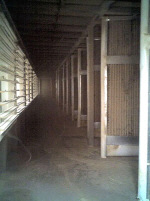 Right: rear side of StuffNix, left fans; the fans suck the air through the dry filter.
Cost-efficient but highly effective solution

The operators of Keum Gang Farm located in the centre of South Korea were confronted with objections from their neighbours when they were planning their poultry house for 96,000 layers. To overcome these obstacles they opted for the well-tried StuffNix dust filter from Big Dutchman, which achieved an overall dust reduction in poultry houses of up to 70 percent as demonstrated by qualified measurements. Compared to a wet-type exhaust air washer, the investment costs as well as operating and maintenance costs of a dry exhaust air filter are much lower.

Operating mode

StuffNix consists of a multi-layer filter wall, in which the passing air is subject to strong changes of direction. Through this simple mechanical principle of separation through centrifugal force, the dust particles are separated from the airflow. They are collected in V-shaped filter pockets so that the way stays free for the cleaned air. The filter walls are easy to transport, easy to assemble and easy to clean.

Furthermore, the filter walls do not promote any additional energy costs as would, for example, be the case with a wet-type air washer for the circulation of the water. The only thing that has to be taken into consideration in this regard, is the additional pressure increase that is required when a StuffNix system is used, which should be kept in mind when selecting the fans and calculating energy costs.