Flu Vaccinations For Poultry Workers: Vein Promises?
UK - Avian Influenza has come to the fore yet again. One constructive measure that came out of the general panic last year was that the government decided, for the first time, to provide free flu vaccinations for all poultry workers, says Farming UK.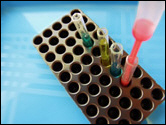 This entitlement remains in force. Last year a special emergency scheme was put into place in January and run by Primary Care Trusts (PCT) under Directions from the Secretary of State for Health, but for this year, and probably for the foreseeable future, it will be left to the Primary Care Trusts to co-ordinate the vaccination programme for poultry workers alongside programmes for the other target groups for whom the seasonal flu vaccine is recommended. In previous years, the flu vaccine has been offered annually by PCTs to four groups: (i) all those aged 65 and over; (2) all those aged 6 months or over in a clinical risk group; (3) those living in long-stay residential or care homes; and (4) at the GP's discretion, carers. Data is collected on the take-up rate for each of these groups, so that the success of the programme can be assessed. This year a fifth group – Poultry Workers – has been added, and data will be collected for this group in the same way as for the other four.

Detailed criteria has been published to establish which poultry workers are included in the programme and which are not, based on the exact nature of the duties they perform. Essentially the criteria have not changed since last year, and as a rough guide, the programme includes everyone who spends time in close contact with poultry inside an enclosed production unit, who catches or culls the birds, or who is involved in cleaning down the sheds after depopulation. Those working in units that do not require statutory registration are excluded, as are workers who do not enter the enclosed production unit, for instance those who sort eggs in a separate sorting area.

PCTs have been instructed to put in place a Locally Enhanced Scheme (LES) for the poultry workers vaccination programme. They have been provided, in confidence, with a list of all registered poultry premises within their boundaries, and should by now have contacted each registered poultry premises to identify all individuals working there who will require the vaccination. The Department of Health contacted PCTs towards the end of September and recommended that they commence implementation of the programme as soon as possible, with a view to vaccinating all those who wish to take up the vaccination before seasonal influenza begins to circulate. As at the beginning of November, some poultry premises had already received letters but others had not; all those units that are registered with DEFRA and have not yet been contacted should expect to receive a letter soon. Once PCTs have received a reply from the units giving them the contact details of all their poultry workers, they should then send out an appointment letter to these individuals, together with an information leaflet produced by the Department of Health. Depending on local arrangements, the poultry workers will either be invited to attend a special clinic, or they will be asked to go to their GP who will have been provided with all the relevant information.

The vaccination is of course voluntary, and it is important to understand that it is not a vaccination against AI; it is the same vaccination against human influenza that is in general use. There is currently no vaccine available that protects humans against AI. However, the Department of Health is urging poultry workers to have the vaccination to guard against the risk of an individual being infected simultaneously with a human flu and a bird flu virus. If this were to occur, the two viruses could combine and the result would be a new type of flu. This could be passed on to other people, and they would have no immunity because it would be a completely new virus. The Department of Health is therefore very anxious to ensure that this does not occur.

Our information suggests that at the beginning of November some PCTs had not taken steps to contact registered poultry units within their area, nor even advised GPs that poultry workers are included in this year's seasonal vaccination scheme. Any poultry workers who have heard nothing, and who wish to take advantage of the free flu vaccination to which they are entitled, may wish to contact their GP and enquire what local arrangements have been put in place to comply with the instructions issued to PCTs by the Department of Health.