Preservation's Progress
US - Deathbed requests take many forms, but rarely do they involve poultry.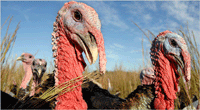 PASTURE RAISED In the prairie grass at Good Shepherd Turkey Ranch in Lindsborg, Kan., a Standard Bronze pair stands out from the flock.
Frank Reese Jr. was the recipient of one in 2004 when his mentor, the great turkey breeder Norman Kardosh, was 78 and in the hospital.

The old man, the one who taught Mr. Reese how to pick out a perfect Bronze when he was just a boy, knew he would soon leave his friends and his rare turkeys behind.

"He started crying and said, it's you I'm leaving it to," Mr. Reese, 59, recalled. "And right there I made a promise to him. I said I would not let these birds die off the face of the earth."

To someone less smitten with turkeys, the birds Mr. Reese is now trying to save on his Good Shepherd Turkey Ranch, an 80-mile drive straight north from Wichita, look as strange as space aliens. They have names like Narragansett and White Holland and once were the deeply flavored anchors of the Thanksgiving table.

Source: TheNewYorkTimes