Climate Change: Meat, Poultry and Vege Feel the Heat
INDIA - From meat, poultry and milk to potatoes, onions and leafy greens, everything consumed on the world's dining tables is feeling the heat from climate change, scientists say.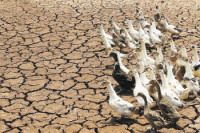 Lifestock, like these ducks in drought-stricken Suinning City, China, will be affected by climate change.
Researchers are trying to establish the extent to which global warming will affect livestock, plant life and staple crops such as rice to bolster their resistance to disease and breed stronger varieties.

The world's billion poor, whether producers or consumers, will bear the brunt, warned scientists at a conference on agriculture and climate change in Hyderabad, India.

"In some ways, the time for doing things is already past," said John McDermott, deputy director of research at the Nairobi-based International Livestock Research Institute. "The changes are already happening."

As an example, rift valley fever, a deadly virus transmitted to sheep, cattle, camels and humans by mosquito bites, is being fuelled by climate change, the scientist said.

The virus is manifesting itself in broader swathes of East Africa and the Middle East because of climate variability in dry regions that helps vectors such as mosquitoes, tsetse flies and ticks to breed and spread.
Source: nstonline