India Committed to Sharing Experience on Avian Flu
INDIA - The Prime Minister, Dr. Manmohan Singh has said that India is committed to share the experience of control and containment of the outbreak of influenza in poultry.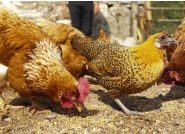 He was speaking at a three-day International Ministerial Conference on Avian and Pandemic Influenza. The PM said that focused governmental intervention must go hand-in-hand with community empowerment in addressing such health care challenges. It is important to include all stakeholders in the communication outreach. In the specific case of avian influenza, such communication should cover the entire production, marketing and commercial chain of poultry production.

He said Avian Influenza, like all pandemics, is a global threat and we must all work together to find a global solution. Each Government will have to act locally, but think globally while dealing with the problem. He said we should guard against institutional fatigue in dealing with such pandemics and never lower our guard.

He said our Road Map for 2008 would be shared at the Conference. While recognizing the need for a long-term vision to control and eliminate Avian Influenza and the threat of human pandemic, the necessity of taking urgent action now and in the present must also be seen. Through our Road Map 2008 we endeavor to suggest action points, which are deliverable and achievable in the next one year. India commits itself to adhere to the roadmap, he added. He hoped that the Conference will find it a useful reference for future programmes.

In his welcome address, Shri Sharad Pawar, Minister of Agriculture and Consumer Affairs, Food and Public Distribution said that controlling Avian Influenza remains an enormous challenge particularly for the administration and the veterinary and medical communities. It has spread to new countries, continents and eco-systems. Therefore, he said, we collectively need to assess the current situation; the effectiveness of the strategies applied and revisit our policies.

Minister for Health & Family Welfare, Dr. Anbumani Ramadoss in his speech said that the persistent though unpredictable threat to animal and human health is enhanced by the apprehension that a second strain of avian influenza, previous considered of little human risk, does indeed pose a real danger. We will need to continue to enhance and strengthen such global cooperation, he added.