Shooting Prices Kill 'Eggcitement' in UAE
UAE - Eggs are in such short supply in the United Arab Emirates (UAE) that the population are being warned not to be surprised if omelettes and scrambled eggs disappear from the breakfast table altogether.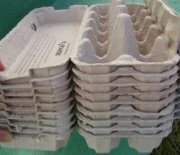 With the UAE banning egg imports from India and Saudi Arabia after the bird flu scare, eggs have become scarce in the market and the suppliers are scratching their heads in despair. Eggs imported from Saudi Arabia and India constitute 50 percent of the market. With the supply of eggs not showing any improvement, some supermarkets are resorting to 'rationing' of eggs.

The scarcity of eggs has caused the prices to shoot up. A tray of 30 eggs, which could be bought at Dh12 earlier are now available at Dh25 or more.

According to representatives of poultry firms, one reason for the scarcity is the high prices of 'feed' which has caused the closure of several local egg producing companies.

The General Director of Arab Poultry Company in Sharjah, Bassam Abu Shama, said, "A tonne of yellow corn or soya now costs more than double. For example, a tonne of soya costs Dh1,700 as against the previous price of Dh500-Dh600. The rising cost of 'feed' has forced many small local egg producers to close shop. The bigger ones are still sustaining, but suffering heavy losses. There is a huge pressure on them to meet the demand after the ban. And they are not able to cope with the demand," said the official.
Source: KhaleejTimes