Chicken Prices Falling in Vietnam
VIET NAM - Several months ago, only several companies in HCM City imported chicken for domestic consumption, and they imported some 2,000 tonnes a month only. Currently, there are dozens chicken importers in the city, which import more than 5,000 tonnes a month.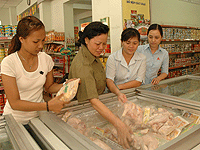 The higher imports of chicken can be understood when the purchasing power for chicken has been increasing. Vietnamese people, who previously did not like western chicken, now have got used to eating this kind of meat.

Experts said that HCM City now consumes some 100 tonnes of imported chicken everyday, while the figure was 50-60 tons a day several months ago. The central region's provinces, which previously consumed several tons a day, now can sell dozens of tons a day.

Analysts said that Vietnamese consumers have no other choice than eating imported chicken though imported chicken does not fit their taste. The recent poultry epidemics have made the chicken supply decrease dramatically and chicken prices skyrocket. Imported chicken has become the alternative for Vietnamese consumers thanks to its soft prices and lack of disease.

Doan Ngoc Tho, an imported chicken trader in HCM City, said that the prices of imported chicken are now very low, especially after the Government reduced the import tax rate from 20% to 12%.

Mr Tho said that more and more companies import chicken to sell domestically because they can make high profit with the deals, 10-20%, or sometimes 30%.

Because of the high imports of chicken, the prices have been decreasing considerably.

The wholesale price of chicken leg was VND26,000/kg several months ago, while now selling at VND22,000/kg. Chicken wings, which was sold at VND40-42,000/kg, are now selling at VND36,000/kg
Fowl farming owners weep
Fowl faming owners in the south once hoped that the chicken price would go up on Tet, which would help them make profit with their farmed fowls. However, chicken prices has been decreasing dramatically since November 2007.

The owner of a fowl farm said that the live chicken price dropped from VND38,000/kg to VND29,000/kg, while the prices of feed for fowls increased by from VND110,000/25kg bag to VND180,000

He said that a lot of farms have stopped breeding poultry because they have suffered big losses. Meanwhile, feed producers have threatened that they would raise feed price by another VND5-7,000/bag.

Nguyen Thanh Tuan, the owner of a fowl farm in Dong Nai province, said that he has incurred the loss of VND200mil, while other farms VND500mil.

Pham Van Minh, Director of Phu An Sinh Company in Ba Ria – Vung Tau, said the total cost to breed a fowl is VND22,400/kg, while farmers can sell at VND21,000/kg only, which means that they incur the loss of VNDVND1,400/kg

In related news, pig breeders have also suffered big losses, and some of them have to shift to other businesses. Some 80-100 tonnes of pork are being imported a month to sell domestically, forcing domestic breeders to lower their selling prices from VND3.6mil/100kg to VND3.2mil.