Carey Named Texas A&M Poultry Science Department Head
TEXAS – Dr. John Carey has been appointed head of the Texas A&M University poultry science department.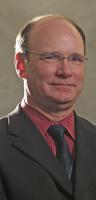 Texas A&M new head of poultry science Dr John Carey
"Dr. Carey brings strong credentials and a wealth of experience to this leadership role," said Dr. Mark Hussey, interim vice chancellor and interim dean of Texas A&M's College of Agriculture and Life Sciences.

Dr Carey received his doctorate in 1982 from the department of animal sciences and industry at Kansas State University.

He served as Extension poultry specialist and assistant/associate professor at North Carolina State University from 1982-89.

He then served as an associate professor and Texas AgriLife Extension Service poultry specialist at Texas A&M from 1989-1992.

In 1993, Carey was promoted to professor and Extension program leader for poultry and associate department head. He has served as interim head of the department since January 2007.

He is a member of the Intercollegiate Faculty of Food Science and Technology. His teaching responsibilities have included courses at the undergraduate level and serving as major professor for both master's of science and doctoral graduate students.

Carey has received state and federal grant and contract funding, and industry support for his research program. He is president of the Poultry Science Association.