New Sales and Administration Manager for Aviagen
NEW ZEALAND - Following the establishment of Aviagen Australia and Aviagen New Zealand (Aviagen ANZ), Burak Kaleli has been appointed to the new post of Regional Sales and Administration Manager.
Utilising his experience from his previous role leading the sales arm of Ross Anadolu, Aviagen's joint venture in Turkey, for seven years, Burak will establish a sales co-ordination function for Aviagen ANZ. His main role will be to develop and implement processes to co-ordinate deliveries and documentation from the regional production centres. This position will involve him working closely with Bill Souther, Aviagen's Vice President for Asia, and his team to progress the sales function, with a particular focus on the countries of New Zealand, Australia, Papua New Guinea, Fiji, the Pacific Islands and across South East Asia.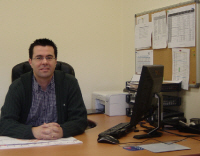 Burak Kaleli
As well as his extensive knowledge and experience in the industry, Burak possesses a degree in Food Engineering and an MBA from Central Missouri State University, USA.

Don McLeod, General Manager of Aviagen ANZ, commented: "I worked closely with Burak during my five years in Turkey and am delighted that he has taken on this exciting and challenging new role which will see him utilise his knowledge and expertise to ensure that we continually provide a quality service to all our customers in the region.

Burak's addition to the team demonstrates our commitment to providing the best possible support and service as the Aviagen business grows in Australia and New Zealand."

Burak added: "This is a great opportunity for me. I am looking forward to working closely with the Aviagen team in the region to enhance the quality of products and services provided to customers. I hope to meet with our current and prospective customers at the earliest opportunity."