Aviagen Welcomes Iraqi Ross Distributor
IRAQ - Two senior members of Vano Group, Rasun Grand Parents Poultry Ltd, the latest addition to the Ross distribution network in the Middle East, recently visited Aviagen's Edinburgh office.
This visit gave Dr Salah Bakir, Chairman and CEO, and Dr Dieyar Kakel, Vice President, the opportunity to meet with Aviagen's management team and get a better understanding of the benefits associated with being a distributor for the world's leading poultry breeding company.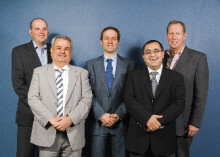 Dr Bakir and Dr Kakel spent time with Aviagen's team of specialists in areas such as R & D, nutrition, technical transfer, production and marketing. The purpose of these meetings was to understand how these different areas contribute to the success of the Ross brand throughout the world and how the two companies can work together to provide the best possible products and service to Iraqi customers.

Rasun are based in Erbil, northern Iraq and are very active in the promotion and sales of Ross products to the domestic market. They work very closely with the Ross team in the region and have already organised a number of seminars with them. There are also plans for a broiler seminar later this year.

Dr Bakir said: "We have really enjoyed our trip to Scotland. It has been very useful to meet with members of the Ross team who we would not normally see on a regular basis. We have been impressed by the scale of the global Aviagen operation and the knowledge and experience shared by the team and I am confident that we will be able to develop very close working relationships with the overall Ross team, which can only be beneficial to Ross customers in Iraq."

Tom Exley, Business Manager, Turkey, Middle East and Africa, commented: "We were delighted to welcome Dr Bakir and Dr Kakel to Aviagen. The visit was a great opportunity to build on our existing relationships and introduce other key members of the Ross team. Visits such as these are important to demonstrate to our customers the other functions of our business and how these can impact positively on our customer's business and productivity.

Iraq is an important developing market and Rasun are a flagship operation who we are proud to call a Ross distributor."