Latin America's Most Modern Hatchery to be Built
PERU - Avícola As de Oro, a Peruvian broiler and breeder rearing company, has enlisted Petersime's support in building its new hatchery in Lima.
Avícola As de Oro is a subsidiary of the AgroVet group, an IS0 9001:2000-certified company with an agricultural and a veterinarian division. The veterinary division covers a range of activities, from pharmaceuticals to rearing, incubation and processing. Since its beginnings in August 1995, Avícola As de Oro has developed a reputation for innovation, creativity and cutting-edge technology.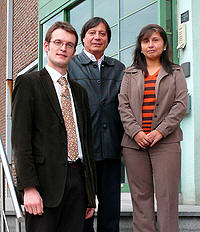 The company currently owns and manages three hatcheries with 24 large multi-stage incubators in operation.

Avícola As de Oro understands the importance of genetics in driving the poultry industry forward. It all starts with the incubation process. Monitoring and controlling developing embryos with modern, innovative systems is the key to maximising hatchability, chick quality and post-hatch performance.

In its quest to optimise environmental conditions and promote better embryo development, Avícola As de Oro is building a fourth hatchery in Lima. The new hatchery will be fully outfitted with Petersime's single-stage AirStreamer™ concept featuring Bio-Response Incubation™ control. Bio-Response Incubation™ constantly diagnoses the embryo and then interactively optimises the incubation environment for each specific batch of eggs.

With this technologically advanced yet user-friendly equipment in place, Avícola As de Oro will soon be the proud owner of the country's most modern hatchery. Once this state-of-theart facility is up and running, the company will be able to increase its total capacity to 1,300,000 chicks per week, providing 20% of the Peruvian market production.