Chicken Manure to Power 90,000 Homes
THE NETHERLANDS - Last week, Dutch agriculture minister, Gerda Verburg, unveiled the world's largest biomass power plant to run exclusively on poultry manure.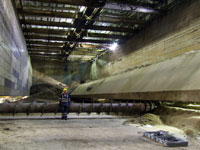 The latest blog from Inhabitat says it is a company that loves to see innovative reuses for industrial refuse, and it is perpetually baffled by the potential of chicken manure to be used as a renewable source of energy.

Last week, it reports that Dutch agriculture minister Gerda Verburg announced a groundbreaking development for the field as she unveiled the world's largest biomass power plant to run exclusively on poultry manure. The plant will convert one-third of the nation's chicken waste into energy while running at a capacity of 36.5 megawatts - enough to power 90,000 homes!

Part of the promise of biomass energy lies in its two-for-one benefit: it generates energy while disposing of waste. Inhabitat says it has covered poo power schemes in the past, but never on such a massive scale!

Situated in Moerdijk, the €150 million plant was constructed by the Dutch multi-utility company, Delta. It will convert roughly 440,000 tons of chicken manure into energy annually, generating more than 270 million kilowatt hours of electricity per year. The plant also addresses a key environmental problem in the Netherlands: "managing the vast excess stream of chicken manure, which, until today, had to be processed at a high cost".

Delta's biomass plant has even been described as being carbon neutral, since it will prevent the manure from sitting in fields and seething greenhouse gases into the air. Once methane from the poultry waste has been extracted and ignited, the left-over ash will be used to make fertilizers and other agricultural products.

According to Peter Boerma, the CEO of Delta, "The biomass power plant is one of the strategic components of our energy mix, which includes a wide range of renewable sources, as well as nuclear power. This diverse energy mix is needed to meet the ever increasing demand for electricity, but for us, building a smart and clean fuel sourcing strategy is more than meeting the consumer's demand, it is a matter of meeting our social obligations."