Poultry Forum Presentations in English at EuroTier
GERMANY - EuroTier show organisers are offering a series of presentations in English from world experts on health, nutrition and consumer trends.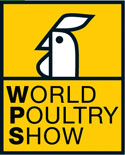 Presentations in English from the wealth of information on world poultry developments available during the Poultry Forum are featured for the first time this year. The English presentations cover afternoon panel sessions of the Poultry Forum held in Hall 11 during the first three days of EuroTier 2008, the world's largest animal husbandry exhibition in Hanover, Germany on 11-14 November. EuroTier also hosts the World Poultry Show (WPS) with its 220 international exhibitors offering an extra attraction for specialist poultry sector visitors attending the forum.

"The poultry sector is international in its outlook and quick in its adoption of best-management practices from other countries and this means we are catering for an eager market with our English forum presentations," points out Heidy Schonebeck, Poultry Production Manager with EuroTier organiser DLG.

"These include veterinary solutions for producers but also presentations on consumer buying behaviour as influenced by factors such as animal welfare and food security." Karl Schlösser, Project Manager of EuroTier adds that a record 70 per cent of exhibitors at the concurrent World Poultry Show (WPS) are from outside Germany this year while the popularity of poultry meat in Germany makes this country especially suitable as a base for the WPS with production increased by nearly 14 per cent in 2007 and another 12 per cent for the first four months of this year compared with the same period in 2007. Mr Schlösser adds that poultry meat sales are also up in Germany – by 10 per cent including a 25 per cent increase in fresh meat sales on the year.
Poultry Forum Presentations in English
11 November 2008
14:00 - 14:30 Classic fowl pest - precautionary measures in Lower Saxony
Dr Klaus-Peter Behr, AniCon Labor GmbH (vet. lab)
14:30 - 15:00 How to make ducks out of hens. Notes on fowl pest vaccination
Dr Timm Harder, Friedrich-Loeffler-Institut (vet. lab)
15:00 - 15:30 Transmitting knowledge in our times
Professor Dr Dietmar Flock, President, Poultry Science Association (WPSA)
12 November 2008
14:00 - 14:30 Studies on alternative litter in turkey and broiler fattening
Dr Jutta Berk, Friedrich-Loeffler-Institut (veterinary lab)
14:30 - 15:00 Feed markets 2009 - where is the poultry sector heading?
Dr Knut Schubert, Deutscher Verband Tiernahrung e.V.
15:00 - 15:30 Projection of the regional development of egg production until 2015
Professor Dr Hans-Wilhelm Windhorst, University of Vechta
15:30 - 16:00 Production of functional eggs and relevance for nutritional physiology
Professor Dr Michael Grashorn, University of Hohenheim
13 November 2008
14:00 - 14:30 Hygiene measures for salmonella control in chicken production
Dr Andreas Wilms-Schulze Kump, General veterinary practice, Visbek, Germany
14:30 - 15:00 A comparative analysis of biosecurity in poultry farms of selected EU member states
Barbara Grabkowsky, University of Vechta
15:00 - 15:30 Small group management - an alternative in line with animal welfare
Professor Dr Werner Bessei, University of Hohenheim
15:30 - 16:00 2009 - What kind of eggs will consumers buy, and where?
Werner Böttcher, Zentrale Markt- und Preisberichtsstel-le (ZMP)
Additionally, the European Poultry Club network of professionals hosts a panel discussion, in the Convention Centre (CC) on November 10, the day before EuroTier opens its doors to the public. Experts from poultry organisations in Australia, Brazil, France and Germany will be among the participants discussing key global issues. The traditional International Poultry Event follows at 19:30 and includes presentations on the market implications of an enlarged EU with speakers from the European Poultry Club and keynote speaker Rick Greubel of Tyson Group.

Cross-species synergies offered to EuroTier poultry visitors including the exhibition's sectors on feeding and feed storage, animal health and animal housing climate control – aspects not found in such depth and range at any other farm animal exhibition.

EuroTier 2008, the world's largest exhibition for professional animal husbandry, will take place in the city of Hanover, Germany on 11-14 November 2008.

You can find out more about EuroTier 2008 by clicking here.