New 'Smart' Stronghold in Indonesia
THE NETHERLANDS - After working for several years with Dutch hatchery technology company Pas Reform, Indonesia's fast-rising PT Panca Patriot Prima has become the latest Asian poultry business to adopt Smart single-stage incubation to fuel future growth.
Pas Reform's SmartSet™ setters and SmartHatch™ hatchers were selected for a brand new hatchery development, situated at Jabung, Malang, East Java. In its first phase this year, 12 setters and 12 hatchers have been installed in a closed house with a warm water heating system.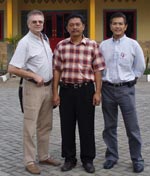 left to right: Martin 'Tiny' Barten, Senior Hatchery Specialist Pas Reform Hatchery Technologies; Mr Tranggono, Hatchery Manager PT Panca Patriot Prima and Dr Tan Ee Seng, Director Asia Pas Reform Hatchery Technologies
A further six incubators are due to be installed - bringing the hatchery operation up to capacity at 180,000 PS level chicks by mid-2009.

"We have always favoured Pas Reform's machines", explains Dodik Yunarto, President Director of PT Panca Patriot Prima. "Our first hatcheries back in 2000 used previous generation Pas machines, and in 2003, we first started to work with single-stage techniques."

Dr Tan Ee Seng commented, "Following installation, a tailor-made training programme developed with the assistance of Martin 'Tiny' Barten, ensures that hatchery personnel are fully conversant with all aspects of the single-stage system, for optimal performance throughout the hatchery."

The company has ambitious plans for growth and will look at developing further single-stage hatchery complexes (with Pas Reform) in the future.

"Indonesia offers many opportunities, both in our domestic markets and in the development of exports," explained Mr Yunarto. "Our plan is to serve a larger geographical spread - and we have seen very clearly how single-stage incubation in our hatcheries will help fuel this growth."