CME: Corn Prices Decline Sharply
US - CME's Daily Livestock Report for 9 December 2008.
USDA will release on Thursday, December 11, its last update of commodity supply and demand estimates for year 2008. The graphic below presents the latest USDA data with regard to corn supplies and use for the current marketing year as well as some trade estimates of the ending stocks in the upcoming USDA report.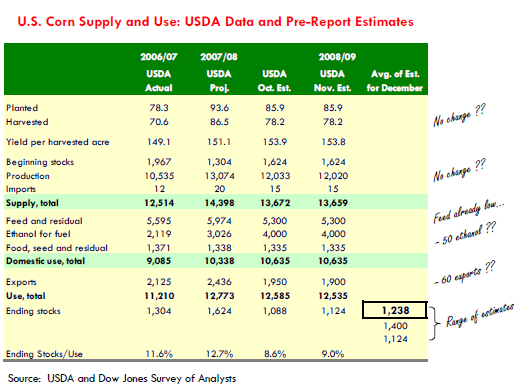 While corn prices have declined sharply in recent weeks and the nearby corn futures is just a little over $3 per bushel (Dec corn in late June was near $8) there are plenty of lingering questions regarding the current corn crop as well as planting intentions for the spring of 2009. Here's a few of the highlights regarding this latest update:
Will there be any more revisions to new crop supplies? A number of grain analysts have pointed out that going forward USDA may lower the yield estimate and thus the production number for the just completed harvest. Current yield estimates may be too high given the delayed harvesting and potentially higher than normal abandonment rates. The last crop progress report published by USDA showed that as of November 23, only 89% of the corn crop had been harvested. Most analysts, however, do not expect USDA to make any revisions to harvest or yield estimates until January, so we have noted a "no change" in the table.


How is corn demand holding up? This is the most problematic part of the most recent report and it is reflected in the wide range of estimates regarding ending stocks. Some analysts project that ending stocks in the December report could be as large as 1.4 billion bushels. To get to that point, we would have to see a significant downward revision in exports (probably by about 100 million bushels), ethanol (another 150 mil bu.) and also some feed reductions. However, the general consensus seems to be that the USDA revisions will be much smaller. USDA will likely lower exports by about 50-60 million bu., given the very slow pace during the first three months and they will possibly lower ethanol use by another 50 million bushels or so. Feed use will likely remain unchanged since it was already lowered by a significant amount in the previous report.