International Egg and Poultry Review
US - By the USDA's Agricultural Marketing Service (AMS). This is a weekly report looking at international developments concerning the poultry industry. This week's report covers the poultry situation and outlook in the United States.
US Poultry Outlook
Broiler
US broiler meat production for the fourth quarter of 2008 is projected to drop 1.5 per cent from 2007 to 9.15 billion pounds. Third quarter 2008 broiler meat production was 9.45 billion pounds, down 3.5 per cent from a year ago. Production is also expected to decrease into 2009 as lower broiler meat prices are not expected to provide incentives for integrators to expand production. Exports of US broiler meat in the third quarter of 2008 totaled 1.91 billion pounds, up 25 per cent from 2007. Broiler meat exports totaled 5.2 billion pounds over the first 9 months of 2008, up 22 per cent from a year ago, with higher exports noted into Russia, China, Hong Kong, Mexico, and the Ukraine. Broiler meat exports to these markets during January through September of 2008 totaled 2.8 billion pounds or 54 per cent of total US exports, which is 17 per cent higher than 2007 levels. It is expected that exports will not continue increasing into the fourth quarter of 2008 or into 2009. Estimates for fourth quarter 2008 are projected to be 275 million pounds lower than the third quarter and 3 per cent lower than 2007 levels; 2009 export estimates is predicted to reach 6.28 billion pounds, down 6.5 per cent from 2008.
Turkey
US turkey meat production for the third quarter 2008 was 1.57 billion pounds, up 5.6 per cent from 2007. Forecasts for fourth quarter 2008 were 1.59 billion pounds, higher than 2007 levels. Production projections for 2009 were forecast to hit 6.1 billion pounds, 2.6 per cent lower than 2008 levels. Exports of US turkey meat in the first 9 months of 2008 were up 23 per cent to 494 million pounds. Increases over 2007 levels were made into the following markets: Mexico (+12 per cent), China and Hong Kong (+82 per cent), and Russia (+10 per cent). However in 2009 exports are expected to decline, due to a weak global economy, a stronger US dollar value, and a smaller amount of money remitted to Mexico from the US. Estimates for 2009 are projected to reach 605 million pounds, down 6 per cent from 2008.
Eggs
Table egg production in the third quarter was 1.67 billion dozen, slightly lower than a year ago. Forecasts for fourth quarter 2008 and into 2009 are projected slightly lower. Hatching egg production for the third quarter was 273 million dozen, down 8 million dozen from 2007; fourth quarter 2008 and into 2009 estimates are projected lower. Third quarter egg exports were 53 million dozen, down 9 per cent from 2007, due to reductions in exports to Japan, Hong Kong, and Mexico; exports for the first 9 months totaled 158 million dozen (-17 per cent). Even though most egg exports were lower exports to Canada rose 19% from 2007 during the first 9 months of 2008 reaching 34 million dozen.
Source: USDA ERS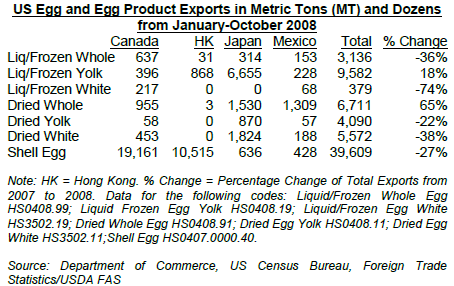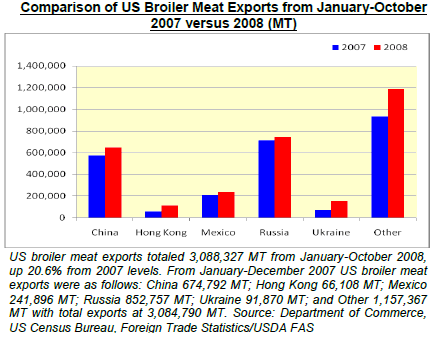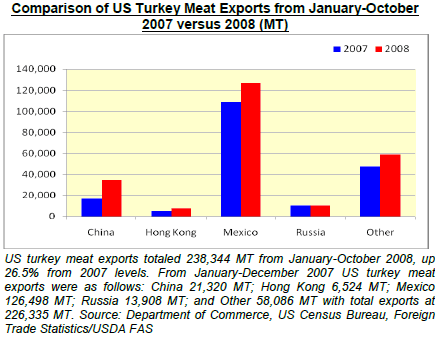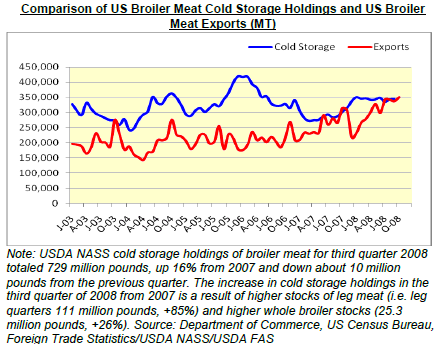 Further Reading