Smart Hatchery Partnership Celebrates 10 years in Poland
POLAND - Hama Plus S.A. and Dutch hatchery technology company Pas Reform are marking the hatchery's tenth Anniversary and ten years in partnership, with the installation of a complete Smart incubation system.
In 2007, Hama Plus undertook extensive modernisation of its existing facilities at Stary Widzim, near Wolsztyn, all of which have been equipped by Pas Reform since the hatchery was founded ten years ago.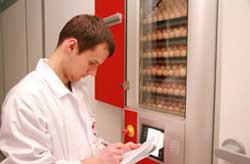 Further investment last year has developed a fourth production facility, bringing the hatchery's annual capacity up to 60 million chicks, with the installation of SmartSetTM setters, SmartHatchTM hatchers and hatchery automation systems.

The new hatchery employs intelligent SmartCenterTM operability, for the simultaneous control of conditions for different breeds and batches. Pas Reform has also supplied and installed an energy-efficient ventilation system.

"When we started the business, Hanna [co-founder, Hanna Szylo] and I were determined to build this company on quality, borne of understanding and respect for our customers," explains Hama Plus founder and chairman, Marek Krzysztoszek.

"Pas Reform has always understood that. The knowledge-base of the [Pas Reform] Academy helps anticipate the needs of our customers, which enables us to realise their goals for uniformity – and growth."

As the largest hatchery in Poland, Hama Plus currently holds about 10 per cent of its domestic market, with growing export partnerships in Ukraine, Belarus, Lithuania and Russia.

The integration includes parent stock, hatchery and broiler farm operations, with proprietary distribution and qualified, certified on-site veterinary facilities.

Hama Plus S.A. will celebrate its tenth anniversary with invited customers, partners and other guests – including a senior team from Pas Reform - in Poland in January.