International Egg and Poultry Review
US - By the USDA's Agricultural Marketing Service (AMS). This is a weekly report looking at international developments concerning the poultry industry. This week's report covers the global poultry situation and outlook, and two items about Russia that will impact trade with the US.
Poultry: World Markets and Trade Forecasts
Broiler production is forecast up 4 per cent to 74 million tons in 2009. Production in China and Brazil are forecast up 8 per cent and 5 per cent, respectively while US production is expected to decrease for the first time since 1973 due to relatively high feed and energy costs.

Total broiler exports are forecast slightly higher in 2009. Brazil and the US account for nearly 80 per cent of the world total. Brazil is forecast to hit another record as exports increase, mainly to Hong Kong, Japan, the United Arab Emirates, the EU-27, Saudi Arabia and Venezuela.

US broiler exports are expected to decline due to a drop in Russian import demand. Exports to other markets, including China, Mexico, Canada, Cuba and Ukraine are expected to be relatively strong.

Global broiler imports are forecast slightly higher, mostly due to increased demand from the EU-27, Saudi Arabia, Mexico and Venezuela, while Russian imports will decline. The EU-27 is the second largest importer in the world. Domestic consumption is growing faster than production.

China has stopped broiler imports from Brazil due to problems with Brazilian plants not being registered with the Chinese Inspection Service (AQSIQ). The US and other suppliers will fill the void.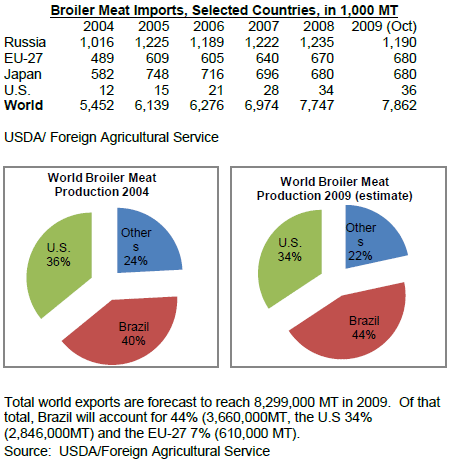 Russia Postpones Chlorine Ban
On 4 December, 2008, the Federal Service for Consumer Protection and Human Well-Being issued Resolution #66 "On Use of Solutions Containing Chlorine for Handling of Poultry Carcasses". This Resolution postpones, until 1 January, 2010, the enforcement of a clause in Resolution # 33 which would have prohibited the common practice of using chlorine in antimicrobial washes to kill surface food borne pathogens such as Salmonella and E. coli. Resolution #33 would have prohibited the use of chlorine in levels that exceeded the level permitted for drinking water. The chlorine maximum residue level would have been 100 times more stringent the current level set in Russian regulations for poultry production.

In April, 2008 the Russian Poultry Union (Rosptitsesoyuz) had expressed its desire to restrict chlorine treatment and liquid content of poultry carcasses as it would effectively block all US exports of poultry to Russia.
US and Russia Sign Protocol on Trade
The U.S. Trade Representative News Release on December 29, 2008 announced the US and Russia had signed a protocol to the 2005 US – Russia Agreement on Trade in Certain Types of Poultry, Beef, and Pork. The protocol makes adjustments to the in-quota quantity and out-of-quota tariff for US pork and poultry exports to the Russian Federation.

The new poultry quota for 2009 is was lowered from 1.25 million MT to 952,000 metric tons, down almost 300,000 MT. The new US quota will be 750,000 MT in 2009 with an in-quota tariff of 25 per cent and an over quota tariff of 95 per cent of value.

For the first 10 months of 2008, U.S. poultry exports to Russia increased 4.2 per cent in quantity (725461 MT to 754,865 MT) and 17.59 per cent in value (from $629,432,000 to $740,153,000) when compared to the same period a year earlier.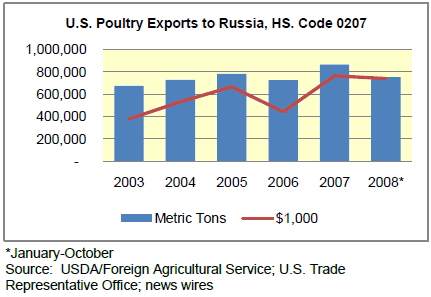 Further Reading