Microgen Hygiene Pvt. Ltd. (Mumbai) Announced Today that its Quat Based D-125 Formulation Disinfectant Kills Leptospira biflexa
GENERAL - Indo-American based poultry disinfectant company, Microgen Inc., recently announced the release of their D-125, 2009 efficacy overview list, which declared ~171 claims, including the Leptospira biflexa bacterium.
The latest D-125 Testing Claim Request says that Microgen's D-125 can be tested on a wide range of bacterial, fungal, and viral pathogens which affect poultry facilities the world over and invites the industry to check off the ones of interest on the Microgen Microbial Library.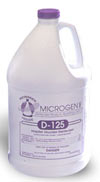 "We will strive to add that pathogen to our ongoing testing queue, enabling you to target a potential disinfection kill claim from the thousands of pathogens in our library, so go-ahead and be part of the process!", says Microgen.

"All testing requests are reviewed by our third party specialist (Ph.D. Microbiologist) for scientific feasibility. If a particular pathogen cannot be tested, we may propose a surrogate (related) microorganism or respectfully decline."

To View Microgen's Efficacy Overview, please click here