Europe's Largest Parent Stock Hatchery Opened
GERMANY - Europe's largest parent stock (PS) hatchery is open for business. Aviagen's €12 million facility will hatch one million chicks each month.
Aviagen has opened Europe's largest Parent Stock (PS) hatchery at Hilbersdorf near Dresden in Germany. The new facility, equipped with state-of-the-art technology, will enhance Aviagen's already unrivalled European supply network and will provide an estimated 1m PS chicks per month predominantly to customers in Eastern and Western Europe.

The official opening on 4 February 2009, attended by local dignitaries and Aviagen's senior management team, marked the culmination of months of planning, construction and investment by Aviagen. The event consisted of a number of speeches from Erich Wesjohann (President EW Group), Randall Ennis (CEO, Aviagen Broiler Breeding), Frank Kupfer (Minister of Environment and Agriculture for the Free State of Saxony), Patrick Claeys (General Manager, Aviagen EPI), Bernd Erwin Schramm (Lord Mayor of Freiburg) and Volker Haupt (Mayor of Hilbersdorf). Brian Whittle, Aviagen's President of European Operations, joined Minister Kupfer in cutting the ribbon and declaring the hatchery open for business.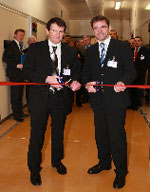 Brian Whittle joined Minister Kupfer in cutting the ribbon at the new hatchery
The delegates then embarked upon a tour of the hatchery, where they were able to experience first-hand the sheer size of the facility, with its state-of-the-art equipment, attention to detail, biosecurity protocols and quality of workmanship.

Randall Ennis said, "The decision to locate the hatchery in this area was not taken lightly. In fact, the planning process for the ultimate decision took over three years. We needed a facility that could satisfy the logistics of European supply and meet our strict biosecurity requirements.

The opening of Hilbersdorf marks another milestone in our strategy to be the supplier of choice for poultry breeding stock to customers not only in Europe but around the world."

Brian Whittle added, "Equipped with the most modern hatchery technology and with the highest biosecurity and hygiene conditions, customers will receive first-class breeding stock from Hilbersdorf hatchery.

The work that has been done has been remarkable and credit should be given to the project team, led by Patrick Claeys. Hilbersdorf now becomes part of our European network including wholly-owned operations in the UK, Belgium, the Netherlands, Denmark, and Hungary."

Frank Kupfer commented, "Thanks to its many technical innovations, Aviagen is the leading company in its field and we are delighted to welcome them to the area. Animal production is very important, as it provides investment and employment in this rural area, and we have been happy to encourage and support Aviagen during the planning and construction of this excellent facility."

Cementing Aviagen's reputation as the world's number one poultry breeder, Hilbersdorf looks set to be a vital link in Aviagen's global supply chain for many years to come."