Vitamin Deficiency Caused Leg Problem in Broilers
UK - The December 2008 Monthly Disease Surveillance Report from the Veterinary Laboratories Agency includes a report of leg weakness and lameness in a broiler flock that was caused by a deficiency of riboflavin (vitamin B2).
Broilers
Riboflavin deficiency
Riboflavin deficiency was diagnosed in four submissions of broiler chickens aged 8, 11, 13 and 19 days, with a history of stunting, lameness and reluctance to move. Curled toe paralysis was clinically suspected in the three younger flocks. Mild oedema of sciatic nerves was noted at post mortem examination was accompanied with histological features consistent with riboflavin deficiency included moderate to marked Schwann cell hyperplasia with numerous mitotic figures and focal intraneural oedema.

Supplementation with multivitamins was reported to have been very effective with 75 per cent of the flock apparently responding within 24 hours.
Marek's disease
Skin samples were submitted from broilers rejected at an abattoir because of folliculitis. Histopathology revealed quite extensive lymphoid infiltrates in some areas of the skin. These were largely perivascular and admixed with a number of inflammatory cells. Without molecular techniques, it was not possible to be absolutely certain that this was Marek's disease. However, in one section of three examined, the extent of the infiltrate was sufficiently marked to suggest this condition.
Commercial Layers
Infectious laryngotracheitis (ILT)
ILT was diagnosed in a house of 32,000, [77-week-old caged layer pullets] from a farm which had previously experienced the disease. The clinical history of respiratory signs and a sudden increase in mortality and post mortem lesions with blood and fibrin casts occluding the trachea were consistent with ILT which was also confirmed histologically.
Blackhead
Classical blackhead hepatic 'target' lesions and caecal cores were seen in a flock of 24,000, 24-week-old free-range layers with a slight increase in mortality and slight drop in egg production. Post mortem examination revealed multiple random round to oval lesions on the liver surface and throughout its substance. Focal caecal ulceration and formation of caecal cores were also present in some carcasses.
Bordetella avium
Winchester received a chicken from a small flock with a history of swollen heads and 'gumming up' of the eyelids. Some of the birds had recovered following antibiotic treatment. Only mild lesions were found in the respiratory tract of the bird but bacterial culture yielded a growth of Bordetella avium from the ovary. This organism is principally recognised as a cause of upper respiratory disease in turkeys but can also cause similar signs in chickens. Although it was confirmed in the ovary of this bird, it may also have been present in mixed growth in the upper respiratory tract. Its presence in the flock suggested that there was an opportunity for the organism to act as a pathogen in causing respiratory signs in the future.
Turkeys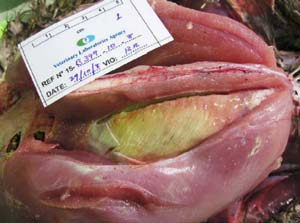 Figure 1. Deep pectoral myopathy in a three month-old turkey
Ornithobacterium rhinotracheale (ORT) infection
Deep pectoral myopathy (Oregon disease) was detected as an incidental finding (Figure 1) in a three-month-old turkey submitted to Thirsk to investigate 40 per cent cumulative mortality since day 1 in a group of 100 turkeys. Affected birds showed wasting and some developed swollen heads. The post-mortem investigation revealed the presence of septicaemia and peritonitis with Ornithobacterium rhinotracheale and Mycoplasma synoviae identified.

Winchester also investigated a problem of respiratory disease (snicking) in samples received from an 8,000-bird turkey flock. Bloods were serologically negative for Mycoplasma spp, but bacterial culture yielded a growth of O. rhinotracheale from the nasal cavity of one bird.
Further Reading
Further Reading
| | | |
| --- | --- | --- |
| | - | Find out more information on the diseases mentioned in this article by clicking here. |