Newquip Goes for Big Move
UK - Newquip has moved premises to allow optimised storage and distribution to increase customer support.
Increasing growth in recent years and a wider variety of products were the driving force for a relocation to new premises: Newquip Limited, the sole UK distributor of Big Dutchman poultry and pig equipment, recently moved to a larger office and warehouse facility.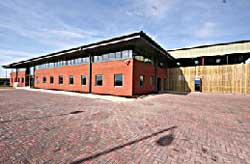 Both functional and optically appealing: view of the building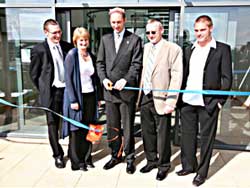 Together with the Dye family, Big Dutchman CEO Bernd Meerpohl cuts the ribbon, the new premises of the family business are officially opened. From left to right: Adam and Gill Dye, Bernd Meerpohl, Philip and James Dye.
This step had been triggered by the desire of the British company to increase customer support and service. The new premises are situated close to the previous headquarters in Leeming Bar, nearby the town of Northallerton in North Yorkshire. Bernd Meerpohl, CEO of the German-based Big Dutchman Group, officially opened the building.

In addition to more office space, the site provides a 19,000-square-foot warehouse to allow for all storage under one roof. The new purpose-built site also incorporates a showroom with a wide variety of pig and poultry equipment on display. Philip Dye, managing director of Newquip, took over the sole distribution of Big Dutchman equipment in the UK in 2000.

Philip Dye said on the occasion of the opening ceremony: "Since that time the product range has been adapted to the changing demands in the pig and poultry sector time and again, new innovations have been brought to the market, and the number of customers has been on the increase. Under these circumstances, our commitment to efficiency and customer service prompted us to move to larger premises."

The company's new address is as follows:
Newquip Ltd, NQ House, Conygarth Way, Leeming Bar Business Park, Leeming Bar, Northallerton, North Yorkshire DL7 9EE.
Tel: +44 (0)1677 428600
Fax: +44 (0)1677 428601
E-mail: [email protected]
Web site: http://www.newquip.co.uk