Poultry CRC PhD Wins Disease Research Award
AUSTRALIA - Poultry CRC scientist, Anthony Keyburn, has been awarded the 2008 PhD Prize by the Monash University Department of Microbiology and biopharmaceutical company, CSL, for his research on necrotic enteritis.
Working at the Australian Animal Health Laboratory (AAHL) facility, Anthony Keyburn and a team of scientists, led by his PhD supervisors, Rob Moore and Julian Rood (Monash University), made a world-first discovery, which has poultry scientists around the globe taking a fresh look at the poultry industry's most common and financially crippling disease.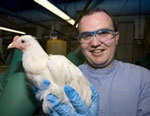 Poultry CRC researcher Anthony Keyburn
(Photo Frank Filippi, CSIRO)
Anthony said the disease was first described in 1961. Alpha-toxin was implicated as the major causative factor, although definitive proof has never been reported.

"As a result, for the last 30 years, all vaccine development work has been based on the assumption that alpha-toxin was the key. We had reason to question this assumption and our experimental work demonstrated that alpha-toxin isn't an essential virulence factor."

This decision led the Australian team to expand their search for the real cause of necrotic enteritis, finding a novel toxin – NetB – involved in the disease-causing potential of a high proportion of virulent Clostridium perfringens strains.

Around the world, poultry producers are now waiting for vaccines against necrotic enteritis. Thanks to Anthony and the team's discoveries, scientists should now be able to develop the vaccines within a couple of years.

"I was really surprised but pleased to receive this award. My PhD, which was supported by the Poultry CRC, feels like a lifetime ago now', he said.

Anthony is currently undertaking Poultry CRC-funded research to investigate and develop a necrotic enteritis vaccine based on the newly identified toxin, NetB.
Further Reading
| | | |
| --- | --- | --- |
| | - | Find out more information on necrotic enteritis by clicking here. |