Top Award for Poultry Newcomers
UK - A couple who moved out of the oil business into poultry farming only four years ago are the latest winners of the Cobb Flock of the Year award.
In competition from flocks throughout Europe, Africa and the Middle East, Chris and Sarah Budden gained the award for 10,400 Cobb 500 broiler breeders on their unit at Offwell, near Honiton, Devon.

In presenting the award Antony Taylor, regional account manager for Cobb Europe, said it was an excellent achievement for the Buddens to have the best flock in 2008 out of almost 30 million Cobb parent stock throughout the region. The flock provides hatching eggs for the Kentisbeare hatchery of P.D. Hook.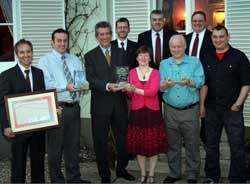 Chris and Sarah Budden (centre) pictured with the Cobb Europe Flock of the Year award, surrounded by representatives from P.D. Hook and behind from Cobb Europe
The winning flock was the third that Mr and Mrs Budden have managed since they bought the Northcombe Farm unit.

They had an ambition to run their own business after travelling the world in oil exploration and were encouraged by a cousin's experiences in broiler growing. It took them six months to find the unit, perhaps not fully realising how much more demanding is producing hatching eggs rather than growing chickens.

"We've had a tremendous amount of advice and support," said Mr Budden. "I'd come from the oil business where you expect to be analysing data all the time, looking for trends and being proactive. This has been a great help in managing chickens – it certainly gave us an early indication that the Cobb flock was going to be well over target. But in no way did we expect to win such an award!"

They are the third owners of the Northcombe Farm unit since it was built in 1973 and have invested in improving the facilities including new feed bins and equipment. But they have had to cope with living in a mobile home on site while they seek to gain planning permission for a more permanent dwelling.

Cobb's regional technical services manager, Mark Foote, said that the award recognised the great teamwork between the Buddens, the hatchery, and support staff from the PD Hook field management team. The achievement also reflected the reliable and predictable performance of the Cobb 500 aided by superb hatchability across the region.

This is the fourth Cobb Flock of the Year Award, last won by Rainbow Farms in South Africa.