CME: Crops Struggling to Make Up for Lost Time
US - This week will see some much-anticipated reports from USDA, reports CME's Daily Livestock Report for 8 June 2009.
The monthly Crop Production and World Agricultural Supply and Demand Estimates will be released on Wednesday as will the Economic Research Service's (ERS) monthly Season-Average Price Forecasts. Thursday is the release data for the US Ag Trade Data Update and monthly meat export data for April, i.e. before the H1N1 influenza outbreak, from the Foreign Agricultural Service. In addition, ERS's monthly Oil Crops Outlook will be published on Thursday while both the Feed Outlook and Wheat Outlook reports will be released on Friday.

Today's weekly Crop Progress report continues to show that US corn and soybean crops are struggling to make up for lost time. Corn planting is virtually complete with 97 per cent of acres planted as of Sunday. Each one per cent that does not get planted will reduce total planted area by 850,000 acres. USDA will not likely issue an estimate for next week, leaving 97 per cent as the final published number. A few more acres will be planted but it is possible that 1.5 million-plus may be switched to soybeans or some other crop. Of the big corn states, Illinois and Indiana continue to bring up the rear on planting progress at 93 per cent and 90 per cent, respectively. Those compare to a normal 99 and 98 per cent.

Soybean planting remains slow by historical standards but did manage to pull 1 per cent ahead of last year's pace last week. Nationally, 78 per cent of soybean acres were planted by Sunday with two to three weeks remaining in the normal soybean planting season. Illinois and Indiana are the trouble spots for soybean planting as well (59 and 69 per cent, respectively, relative to "normal" levels of 88 and 87 per cent) but are joined by some Mid-South states (Tennessee, Kentucky, and Arkansas) and North Dakota in the "planting troubles" category.

Eyes will now turn to the emergence rates for this year's crop and the results to date are not encouraging. As can be seen below, the emergence rates for both corn and soybeans are the slowest on record with only 87 per cent of corn and 55 per cent of soybeans emerged as of Sunday. Those compare to 89 per cent and 56 per cent, respectively for last year's crops which were the slowest emerging since 2000 for both corn and soybeans. Last year's crops recovered to a great degree, of course, but this slow start means that timely rains and ample heat days will be critical for these late-planted crops to reach their yield potential.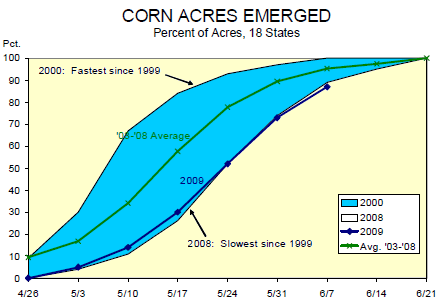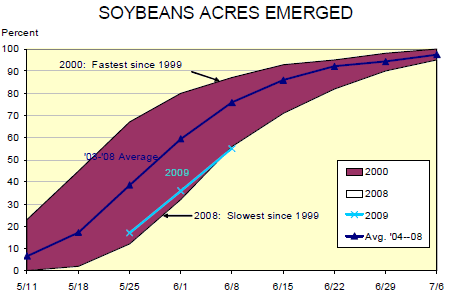 While corn price increases have hurt all livestock and poultry sectors, the run-up in soybean meal prices have been particularly hard on pork and poultry producers. In fact, higher soybean meal prices have added as much to projected hog production costs as have higher corn prices since 1 March. The impact on broiler and turkey costs is even greater since both poultry species use an even higher percentage of bean meal in their diets than do hogs. And the upward move may not be over. Dr Robert Wisner told an audience at last week's World Pork Expo that his projected year-end soybean stocks for the 2008-09 crop year is only 2.2 weeks of supply – the lowest in his data set that goes back to 1965.