International Egg and Poultry Review
GLOBAL - By the USDA's Agricultural Marketing Service (AMS). This is a weekly report looking at international developments concerning the poultry industry. This week's report covers the USDA's proposal to permit imports of live birds, poultry products and eggs as well as Russia's WTO membership and the industry in Uruguay.
USDA Proposes To Allow the Importation of Live Birds, Poultry Products and Eggs from Poland and Germany
The US Department of Agriculture's Animal and Plant Health Inspection Service (APHIS) is advising the public of its determination regarding highly pathogenic avian influenza (HPAI) subtype H5N1 status of Germany and Poland following outbreaks in 2006 and 2007.

Based on assessments of the animal health status of the two countries, which was made available to the public for review and comment through a previous notice on 2 January 2009, APHIS has determined that the importation of live birds, poultry carcasses, parts or products of poultry carcasses, and eggs (other than hatching eggs) of poultry, game birds and other birds from either Germany (except Saxony, Germany) or Poland presents a low risk of introducing HPAI H5N1 into the United States.

The January 2009 notice stated that for Germany, the US would maintain the restrictions imposed on Saxony, in response to a subsequent October 2008 outbreak in the district of Görlitz in Saxony, until the European Commission lifted the restrictions it had imposed. At that point, the US would reevaluate the HPAI H5N1 status of the district of Görlitz.

The EU lifted those restrictions on 13 November 2008, following extensive surveillance and epidemiologic investigations. Accordingly, the notice published in the 5 June issue of the Federal Register makes available, for review and comment, our assessment of the HPAI H5N1 status of Saxony, Germany.

Notice of this action was published in the 5 June Federal Register and becomes effective on 22 June.

Source: USDA Animal Health Inspection Service; Federal Register Vol. 74, No. 107
Russia's WTO Negotiations
Russia will abandon efforts to join the WTO as a single nation and will apply to join as a trade union with Belarus and Kazakhstan. The plan would drop trade barriers between the three nations starting in 2010 and all three countries will drop talks to join the WTO individually. Russia has been trying to join the WTO since 1993 and is the largest economy to remain outside the trade group.

Source: Bridges Weekly Trade News Digest, Volume 13, Number 21; news wires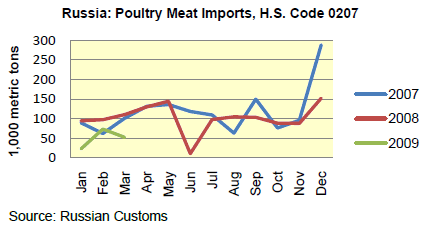 Uruguay
Uruguay's economy is characterised by an export-oriented agricultural sector and high levels of social spending. Agriculture accounts for nine per cent of the labour force, industry is 15 per cent and services constitute 76 per cent (2007 estimates). Agriculture and agri-industry account for 23 per cent of the Gross Domestic Product (GNP) and for over two-thirds of total exports. Economic growth has averaged eight per cent annually during the period 2004-2008.

Beef is the main meat produced and consumed in Uruguay. Annual per capita estimates for beef are 50kg, 18kg for chicken and 6-7 kg for lamb. Uruguay is a net exporter of beef and poultry and a net importer of pork.

Brazil's Ministry of Development, Industry and Foreign Trade (MDIC) proposed to export poultry meat to Uruguay, starting with an initial quota of 1.8 tons, and is waiting on a technical evaluation by the Uruguayan government. Uruguay's demand for poultry meat is supplied internally, and Uruguay would not be a large market. Brazil wants the recognition by an additional country, which could create a precedent for negotiations with other trading partners.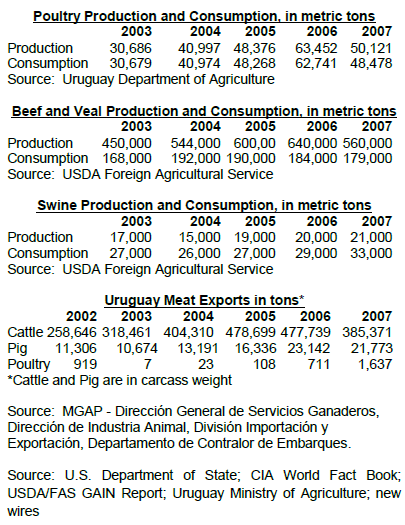 Further Reading