International Egg and Poultry Review
GLOBAL - By the USDA's Agricultural Marketing Service (AMS). This is a weekly report looking at international developments concerning the poultry industry. This week's report covers China's requests to the WTO to investigate US ban on Chinese poultry imports.
China Requests WTO Investigate US Ban on Chinese Poultry Imports
On 17 April 2009, China requested consultations with the US government through the WTO, concerning certain measures taken by the US affecting the import from China of poultry products. This officially began a 60 day consultation period, after which China could ask the WTO to launch a formal investigation. The consultations failed to solve the issue and in June China petitioned the WTO to establish an expert panel to investigate and rule on the legality of the US measure.

The request for consultation stated "Pursuant to Section 727 of the Omnibus Appropriations Act of 2009 ('Section 727'), which was signed into law as Public Law 111-8, the US effectively prohibits the establishment or implementation of any US measures that would allow poultry products to be imported from China into the US.

The request stated that Part 381 of Title 9 of the US Code of Federal Regulations identifies countries eligible to import poultry products into the US Following inspection in China by the USDA, the US determined that China is eligible to import certain poultry products into the US China is concerned that Section 727 effectively prohibits the USDA from taking any action to expand the class of poultry products eligible for import into the US from China.

China does not believe this is a sanitary and phytosanitary measure (SPS measure), but if it were demonstrated to be an SPS measure China requests consultations with the US pursuant to Article 11 of the SPS Agreement. China is concerned that if this is an SPS measure, then it violates articles of the SPS Agreement because any SPS measure is not based on a proper assessment and not supported by scientific evidence.

US goods and services trade with China totaled $410 billion in 2007. Exports totaled $79 billion; imports totaled $330 billion. China was the US's third largest goods export market in 2008.

US exports of agricultural products to China totaled $12.2 billion in 2008, the fourth largest US Ag export market. US imports of agricultural products from China totaled $3.5 billion in 2008, the third largest supplier of agricultural imports.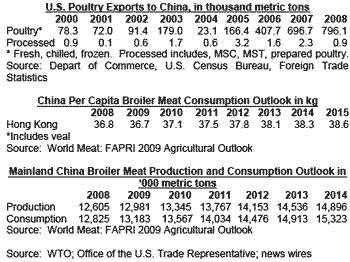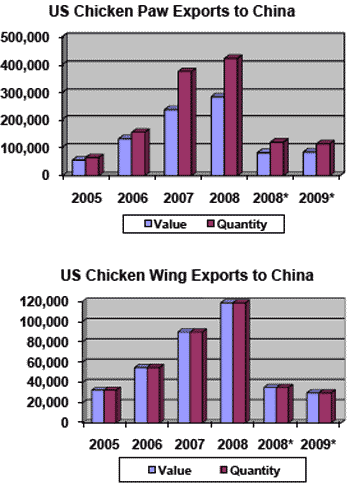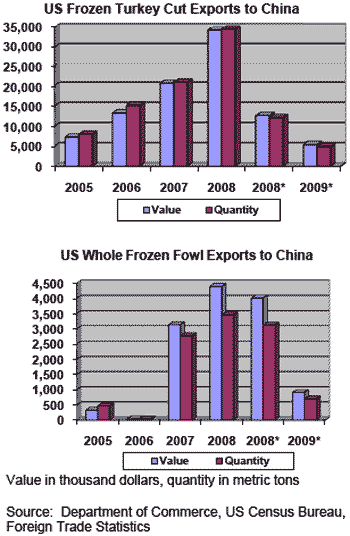 Further Reading
Further Reading