International Egg and Poultry Review
RUSSIA - By the USDA's Agricultural Marketing Service (AMS). This is a weekly report looking at international developments concerning the poultry industry. This week's report focuses on Russia's poultry situation.
Russia's Poultry Situation
The development of agriculture is one of the major national priorities, according to Russian President Dmitiry Medvedev. He stated that imported meat in 2009 is expected to drop to a quarter of total meat consumption compared to one-third in 2008, while meat consumption will remain constant.

For 2009, the Ministry of Agriculture's planned production of livestock and poultry for slaughter, in live weight, was forecast to increase by 2.0 per cent compared to 2008, and reach 9.52 million metric tons (MMT). However, recent calculations now project meat production to reach 9.9 MMT, up 6.0 per cent over 2008. For the first half of 2009, poultry production rose 12.0 per cent, swine production was 8.4 per cent higher, sheep and goat production increased 0.7 per cent and cattle production fell 3.0 per cent compared to the first half of 2008.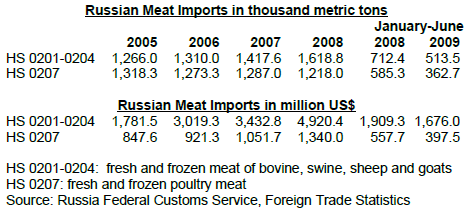 Poultry meat imports for the first half of 2009 fell 38 per cent in volume and 29 per cent in value compared to the same period in 2008. Red meat imports fell 28 per cent in volume and 12 per cent in value, according to Russia's Foreign Trade Statistics.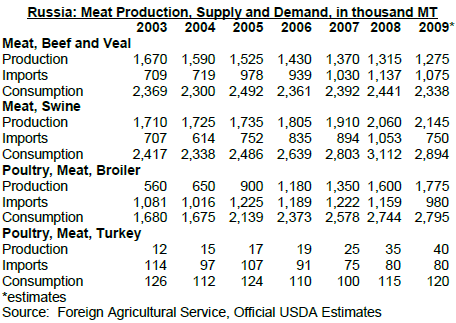 According to USDA figures, Russian broiler meat production grew from 560 thousand metric tons (MT) in 2003 to 1.6 million metric tons (MMT) in 2008 and is estimated at 1.8 MMT in 2009. Turkey meat production rose from 12,000 MT in 2003 to 35,000 MT in 2008 and is estimated to reach 40,000 MT in 2009. During this period beef and veal meat production fell from 1.7 MMT in 2003 to an estimated 1.3 MMT in 2009 and swine meat production rose from 1.7 MMT to 2.1 MMT.
Source: Russia Ministry of Agriculture; USDA/FAS Attaché Report; news services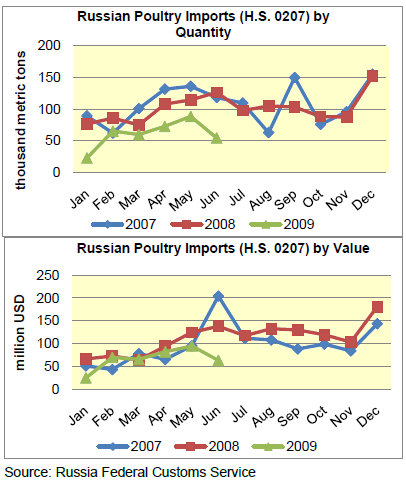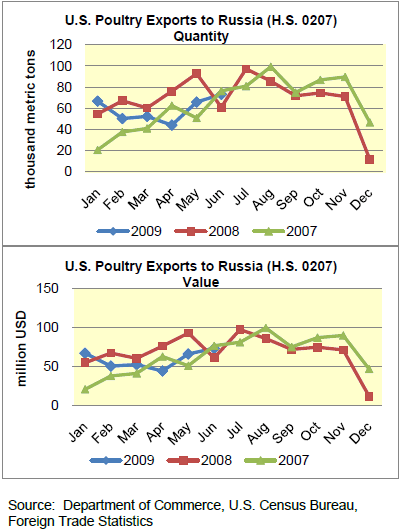 Further Reading