Midway Chix Signs Agreement for Hubbard Flex
SOUTH AFRICA - Midway Chix (Pty) Ltd. and Hubbard SAS recently have signed a distribution agreement for the placement of Hubbard Flex Grand Parents and the production of Hubbard Flex Parent Stock in South Africa.
The first Hubbard Flex Grand Parents in South Africa were placed in the second half of 2006 after signing an agreement with Genetex (Pty) Ltd. Hubbard has now announced that it has signed a distribution agreement with Midway Chix for the placement of Flex GPs and the production of Flex PS in South Africa.

Jim Gray, MD of Hubbard South Africa, explained: "The response of the field has been very positive and confirmed the good breeder and broiler results but it was still quite difficult to break the existing market situation. But now with the agreement made with Midway Chix, a partnership between Mikes Chicken and Daybreak Farms, we are really able to anchor Hubbard's business for the long-term future in South Africa."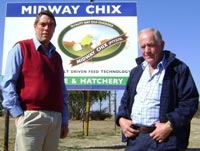 Steve Steenkamp (Chairman of Midway Chix) and Mike Nunes (owner of Mikes Chicken)
Steve Steenkamp, Chairman of Midway Chix and Managing Director of Daybreak Farms, a subsidiary of AFGRI, underlines the importance of this agreement.

He said: "We have been looking at the Hubbard Flex for some time and have really been convinced to make this choice after extensive research in South Africa and Europe. We are impressed by the capabilities of the Hubbard Flex and the commitment of Hubbard as a worldwide operating breeding company to make sure that there is an alternative choice for the poultry producers around the world. This will also give us more security of supply and at the same time we can continue to support the independent producers in South Africa."

"We are extremely pleased with this new partnership in this very important and continuously growing market. Hubbard has been renowned in the South African market for many years, but unfortunately we had not been present in South Africa since the late nineties. It is our target to be the breed of choice of the independent producers in South Africa and to continue to expand our market share in this challenging market", concludes Paul van Boekholt, Hubbard Business Director.

Midway Chix is a broiler breeder operation, situated near Bela-Bela (Warmbaths) in the Limpopo province, and produces hatching eggs and day-old chicks for their own use and for the supply to independent hatcheries and broiler farmers.

Midway Chix, a partnership between Mikes Chicken and Daybreak Farms, is a subsidiary of Daybreak Farms which was acquired by AFGRI in 2006 as part of AFGRI's strategy to become a fully integrated operation. Daybreak Farms is situated in Sundra near the Gauteng market and aims to be the supplier of 'Superior' frozen chicken products to the South African consumer. Midway Chix produces over 850,000 day-old chicks per week and Daybreak Farms currently processes about 650 000 broilers per week and employs over 500 people.