Egg, Pork Prices Not Triggering Inflation
CHINA - China's Minister of Agriculture, Sun Zhengcai, said today that recent consecutive increases in the prices of pork and eggs are 'normal', and would not trigger inflation.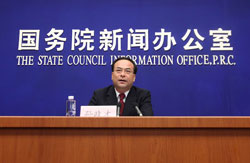 Minister of Agriculture of China, Sun Zhengcai, was speaking at a press conference at the Chinese capital on 21 September. Mr Sun remarked on the achievements China has made in the sixty years since 1949 when the People's Republic of China was founded. [Photo: Xinhua]
Mr Sun made the remarks at a conference on achievements China has made in the 60 years since 1949 when the People's Republic of China was founded.

Food, of which pork is one key component, makes up a third of China's consumer price index. Mr Sun's comments dispelled concerns recent price increases would also lift other agricultural products' prices and result in inflation.

Data from the National Development and Reform Commission (NDRC) today showed the price of pork was 23.94 yuan per kilogram during the week starting 14 September, up 0.17 per cent from the week starting 7 September.

Mr Sun said pork prices had recorded an accumulated 30 per cent increase in the recent 15 weeks, adding the rises were because of normal recovery and seasonal adjustment.

China's pork prices fell from March to June on oversupply and concerns the A/H1N1 influenza virus was connected with pigs.

He gave figures to support his argument, saying the current price of pork was still 11.3 per cent lower than this year's price peak, and 16.3 per cent than a year ago.

Egg prices stood at 8.29 yuan per kilogram last week, down 0.7 per cent from a year earlier.

The rebound in prices was the natural result of their being too low during the March to June period, Mr Sun said, noting the increases helped ease the losses of big producers.

About 46 per cent of the country's pig breeders suffered losses in May but the figure reduced to 6.8 per cent by August, he said.

"I am sure that supply of major agricultural products will be ample, and there will not be big and straight price increases. So inflation will not happen." Mr Sun said.

He said severe drought in the north-eastern and southern parts of China since August have had a big impact on grain production but the country would enjoy a good harvest during autumn if there are no major natural disasters.