Petersime Starts Major Facility Expansion
BELGIUM - Petersime has announced a major facility expansion project for the fourth quarter in 2009.
With 165 employees and over €48 million in revenues, Petersime is the undisputed worldwide leader in designing and manufacturing incubators and hatcheries.

After four consecutive years of sales growth and rising market share, Petersime has outgrown its current office and production facilities in Olsene in Belgium.

To keep pace with this rapid expansion in output, the company has just purchased 22,000 square metres of additional land in a newly developed industrial area next to the current Petersime site. The company will also be using the opportunity to improve its efficiency and capacity in production and logistics, as well as increase customer satisfaction.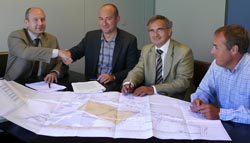 Land purchase agreement, effective 29 June 2009. from left to right: Michel De Clercq (Managing Director, Petersime), Henk Heyerick (Mayor of Zulte), Hans Vandewalle (Director, Veneco2) and Paul Degraeve (Managing Director, Petersime).
The expansion project will include the following improvements:
a new production hall of over 4,000 square metres
two new logistics zones with a total of eight loading docks positioned to load up to eight trucks and/or containers simultaneously. Incubators will be shipped exclusively from the first zone (five docking stations), while the second zone (three docks) will be used to hold and ship hatchery air handling systems and specialised hatchery equipment.
340 square metres of new staff and meeting facilities
a new 620-square metre building to house the new showroom, Service Station with extensive customer training facilities, and the Marketing Department
a 180-space car park for visitors and staff, and
energy-saving investments in roof-mounted photovoltaic solar panels
The total investment programme will run over a period of 18 months.

As a first step, the land purchase agreement was officially signed on 29 June 2009.

Henk Heyerick, Mayor of Zulte (Olsene), signed the land sale contract on behalf of Veneco2. Petersime was also on hand, represented by Michel De Clercq and Paul Degraeve, its two managing directors. Veneco2 and other local authorities have worked very closely with Petersime, a key employer in the community, to optimise the layout of the industrial area.

Construction is set to begin in October 2009. The new facilities are expected to be fully operational by mid-2011.