Bounty Fresh Foods Chooses Petersime Technology
PHILIPPINES - Top Filipino poultry industry player Bounty Fresh Foods Inc. has chosen Petersime for the major expansion of its broiler hatchery in Tarlac (100 km from Manila), increasing capacity by an additional 42 million hatching eggs per year.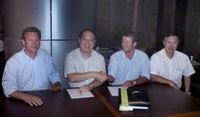 Tennyson Chen and Kenneth Cheng (Bounty Fresh Foods Inc.) together with Tom Dewaele and Philippe Boxho (Petersime) at the closing of the contract.
There never was any doubt that the expansion project would feature single-stage incubation technology, the only option that effectively addresses bio-security issues in addition to providing better hatchability and chick quality.

With its unique Embryo-Response incubation™, Petersime was the obvious partner of choice. Petersime AirStreamer™ technology monitors and meets the exact requirements of the developing embryo, enhancing performance and yield.

Another factor that weighed in Petersime's favour was its Project Department. The company has the right technical and managerial expertise in house to handle a wide variety of projects, from designing and installing air handling systems to upgrading existing hatcheries.