Goose Newcomers Award Goes to Peak District
UK - Newcomer to farming in one of the country's most scenic locations, Lizzie Murphy, is the 2009 winner of the John Adlard Memorial Award for new entrants to goose production.

The award, which includes a number of free goslings and specialist advice through the first year, is in memory of John Adlard, founder of Norfolk Geese and chairman of British Goose Producers (BGP) for 23 years until his death in 2005.

Ms Murphy, who is rearing 363 geese at Netherdale Farm in Monsal Dale in the Derbyshire Peak District, received the award from Eddie Hegarty, partner of Norfolk Geese and BGP vice chairman, at its annual goose walk at Radley, near Abingdon, Oxfordshire.

Lizzie Murphy and her husband, Den, took over the tenancy of Netherdale Farm in September but had already made arrangements with the owners, Chatsworth Estate, to bring in the goslings in June to start production for the Christmas market.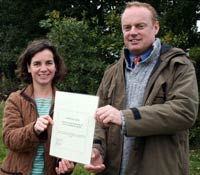 Lizzie Murphy receiving the John Adlard Memorial Award from Eddie Hegarty of Norfolk Geese
She had already looked into the market for geese locally and plans to sell them at farm shops, butchers and the farmers market in Bakewell as well as from the farmgate. The farm, which has provided settings for films, is located on the Monsal trail and attracts thousands of walkers through the year.

The goose walk, attended by more than 60 BGP members and friends at the Homewoods' Peach Croft Farm, was the setting for the organisation's first farm visit in 1985 soon after it was formed. Then, goose production was at a low ebb largely through the success of turkey in capturing the festive market, but today the revival of the goose continues along with goose fat and goose eggs.

The visitors saw how Bill Homewood and his wife Kim produce, process and market 2350 geese, which they sell as far as Wales, Yorkshire and the South Coast – 80 per cent through butchers and farm shops and the others through their own impressive retail shop. They also saw the other enterprises including 8,000 turkeys, 600 acres of arable crops and a pick-your-own venture starting with asparagus and soft fruit, then sweetcorn and a splendid array of pumpkins in the autumn. Another by-product of the goose is feather and down, with Bill's mother Nancy gaining a reputation for using them in making pillows.