Petersime Now Offers Documentation in 11 Languages
BELGIUM - Petersime's Tailored Documentation Box is now available in the Turkish language, bringing the total to 11 different languages.
As part of Petersime's ongoing commitment to providing superior customer service, all of its customers receive a Tailored Documentation Box upon delivery of their new incubators. This handy resource guide, part of the '24/7 Access to Service Station' Service Pack, features 600 pages of practical user information, in plain language, and neatly categorised by topic.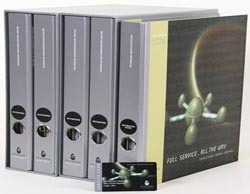 Complete set of Petersime's Tailored Documentation for setters, hatchers and HVAC systems, plus Incubation Guide
With this high quality technical documentation, Petersime has outdone itself once again:
All technical information is fully customised, with only the order-specific configuration and options presented. Available in print, Internet or CD version.
With the addition of Turkish, the user documentation is now available in 11 different languages: English, Dutch, French, German, Italian, Polish, Portuguese, Russian, Spanish, Swedish and Turkish. Chinese and Indonesian will follow shortly.
The Tailored Documentation Box not only covers setters and hatchers, but also the complete customer-specific hatchery air handling system.

In addition, Petersime's unique '24/7 Access to Service Station' Service Pack is not just for new Petersime customers only. All Petersime users with older models (manufactured up to 30 years ago) can instantly access their complete technical files simply by providing the serial number of their setters and hatchers.

New and current customers alike will delight in the wide range of expert information and high quality support available in the '24/7 Access' Service Pack:
Tailored Documentation Box
Incubation Guide
Helpdesk: immediate expert support in technology and embryology from the Performance Optimisation Centre
Software updates and upgrades
e-Shop: easy access to over 10,000 parts, featuring pictures and reference numbers for hassle-free ordering
For more information, contact your local Petersime distributor, or e-mail the Petersime head office ([email protected]).