IPC Expands Committee, Re-Elects Executives
AUSTRALIA - Members of the International Poultry Council (IPC) re-elected all members of its executive committee for another term, and also approved expanding the committee by one delegate at its annual meeting in Sydney.

During the IPC annual meeting this week in Sydney, Jim Sumner, president of the USA Poultry & Egg Export Council was re-elected as president of the organisation. Joining Mr Sumner on the executive committee are Tage Lysgaard of a.v.e.c., the European Poultry Association, first vice president; Ricardo Santin of ABEF, the Brazilian Association of Poultry Producers and Exporters, second vice president; Cesar de Anda of UNA, the Mexican Poultry Producers Association, treasurer; and at-large members, Dr Mohammed el-Shafei of Egypt and Dr Wang Xiulin of the China Poultry Association.

Meanwhile, IPC members approved Dr Vivien Kite, deputy executive director of the Australian Chicken Meat Federation, as an additional at-large member of the executive committee.

Headquartered in Paris, the IPC was organised in 2005 as a cooperative forum for the world's poultry-producing countries. The organisation is comprised of 23 countries representing approximately 85 per cent of the world's poultry production, and nearly 96 per cent of global trade in poultry meat. IPC also has a growing number of associate members, which includes poultry companies from around the world. Companies interested in associate membership are encouraged to contact Executive Secretary, George Winn ([email protected]).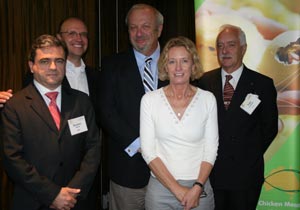 IPC Executive Committee: left to right: Ricardo Santin (ABEF, Brazil; second vice president); Cesar de Anda (UNA, Mexico; treasurer); Jim Sumner (USAPEEC, US; president); Dr Vivien Kite (ACMF, Australia; at-large-member). (Not pictured are at-large members Dr Mohammed el-Shafei from Egypt and Dr Wang Xiulin from China.)