New Appointments in Aviagen's TMEA Team
GLOBAL - Aviagen has announced the appointment of Michael Garden as Business Manager for the Turkey, Middle East and Africa (TMEA) region as part of the company's ongoing investment in customer service.
Mr Garden moves to this role from his previous position of Regional Technical Manager and is replaced by Puzant Dakessian, formerly Technical Service Manager in the region.

The new appointments reflect the increasing importance of the region in the global poultry market and Aviagen's commitment to consistently providing customers with the best possible support.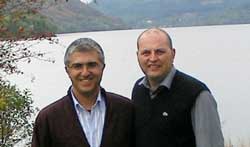 Puzant Dakessian and Michael Garden
Commenting on the new appointments, Tom Exley, Vice President, International Business, said: "Michael has extensive experience within the TMEA region both as an Aviagen customer and subsequently in various technical roles within the company ensuring that he is perfectly placed to meet our customers' needs. He has built an excellent reputation with his team, his Aviagen colleagues globally and customers throughout the region and I am confident he will be a great success in his new role."

Mr Exley added: "Puzant brings a wealth of experience and knowledge to his new position, having worked for over 13 years in the poultry industry, eight of which with Aviagen. He has excellent technical and communication skills and is exactly the right person for this highly important position.

"I am sure that Michael and Puzant, along with the rest of the TMEA team, will not only continue to help develop our business but also our customers' businesses."

Both Mr Garden and Mr Dakessian have already taken up their new roles and will be continuing to visit customers, highlighting the benefits of Aviagen products in this challenging but growing market.